This is an archived article and the information in the article may be outdated. Please look at the time stamp on the story to see when it was last updated.
NEW ORLEANS (WGNO)- A local inventor will get national exposure tonight on ABC's hit show, "Beyond The Tank".
News with a Twist Reporter Kenny Lopez found out that this product is very New Orleans, and will keep you in the Mardi Gras spirit all year long!
Lisa Lloyd likes to invent things and has been doing so for years.
"One of my products, I licensed with Scunci, and they made it and sold it. I did get to model for the packaging which was a lot of fun," she said.
Over the years, she's invented various products which went on to be very successful and landed her on ABC's hit show, "Shark Tank" in 2010, which ended up with her getting some deals for her product, Treasure Chest Pets. On the show, Daymond John even said he would make her 'filthy rich'.
"It was for a line of stuffed animals called 'Treasure Chest Pets'.  We did very good, and got them into 400 stores, but it was at a time when the economy sank, so we were forced to shut down," Lloyd said.
Like every good inventor, she came up with a new idea.  Masque Rage temporary tattoos were born!
I moved to New Orleans five years ago.  During Mardi Gras, I saw women wearing different body paint and masks.  I was intrigued, and I thought the face paint was particularly beautiful, but I didn't have the patience or tolerance to sit there and be painted.  I started to look online for something like a temporary tattoo, but couldn't find anything, so I decided to invent it," she enthusiastically said.
Masque Rage temporary tattoos are all the rage and are already being sold in 70 stores nationwide.
"When I started getting orders for these designs in Ohio and Wichita, I knew I was really onto something that worked for middle America.  I had women in Los Angeles, New York, and Chicago who are wearing them to dance clubs.  Sales have been amazing.  I've sold almost the entire inventory of 10-thousand tattoos, which I started selling in September.  I just re-ordered more with six new designs," she said.
The producers over at "Shark Tank's" sister show, "Beyond The Tank" got word of Masque Rage and wanted to feature her on the show!
"The estimated viewership is 2-million, so I anticipate a nice increase in traffic on my website," she said.
Bachelor & Bachelorette parties, dances, music festivals, costume parties, birthdays, really any event where you want to feel like you're at a Mardi Gras party…they're good to go and easy to put on!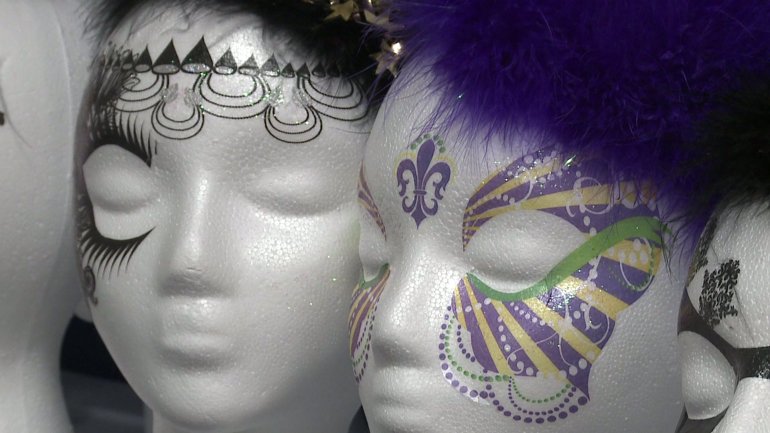 "It's a lot of fun to dress up.  They're easy to put on just wet the back, place it on your face.  They typically can stay on for about a week, but if you want to remove them, use baby oil," she said.
Each Masque Rage temporary tattoo is only ten dollars.  Her "Beyond The Tank" episode will air tonight on WGNO-TV at 9 p.m.
Lisa will be hosting a "Beyond The Tank" watch party tonight at 8 p.m. at Landing Zone at 625 Celeste Street.
For more information and if you'd like to purchase Masque Rage temporary tattoos, click HERE: