This is an archived article and the information in the article may be outdated. Please look at the time stamp on the story to see when it was last updated.
NEW ORLEANS (WGNO) – She's just 16.
And she's already a chef.  Her name is Eliana de Las Casas.
WGNO News with a Twist features reporter Wild Bill Wood found Eliana in the New Orleans kitchen where she's been cooking since she was just 4.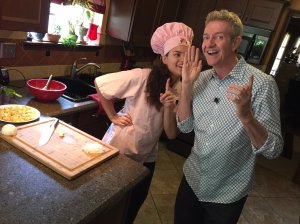 That's when Eliana made strawberry and cream cheese sandwiches.
Now, she's moved on to a breakfast of carrot cake pancakes with cream cheese frosting, pan-fried potatoes and over easy eggs.
Wild Bill wonders if the recipe happens to be in Eliana's cookbook.
No, it's not in the first cookbook or the second or the third.
Chef Eliana has three cookbooks.  And she's got a new line of spices soon to be on store shelves.
She's also on the radio.  Once a week, Chef Eliana talks food on WHIV radio.
And then, she goes to school.  Chef Eliana is in the culinary program at NOCCA, New Orleans Center for Creative Arts.
No surprise, she's just won Food Network's Chopped Teen Tournament.