This is an archived article and the information in the article may be outdated. Please look at the time stamp on the story to see when it was last updated.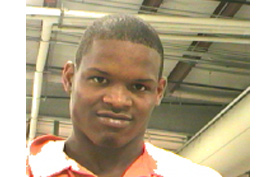 (News release from NEW ORLEANS POLICE) – New Orleans Police and US Marshals have arrested two brothers and booked them in the shootings that caused chaos during a second-line last Sunday, with 19 people injured by bullets, and one woman hurt as she was trying to flee the area.
NOPD's Fifth District detectives were able to develop 19-year-old Akein Scott as a gunman the very next day after the shooting, and last night just after 10pm, Scott was tracked to a residence in the 7500-block of Kingsport Drive.   He was taken into custody without incident.
Scott was charged with 20 counts of Attempted Second Degree Murder, and is now being held on $10-million dollars bond.
Investigators also learned that four people were aware that Akein Scott was wanted for this shooting, but didn't turn him in, and instead, provided him comfort and aid.  These individuals were also picked up during the night.  They are 32-year-old Nekia Youngblood, 22-year-old Bionca Hickerson, 28-year-old Brandy George and 19-year-old Justin Alexander.  All four are charged with Accessory After the Fact of Attempted Second Degree murder and Relative to Obstruction of Justice by Harboring a Fugitive.
And finally, through further investigation, detectives learned that 24-year-old Shawn Scott, Akein's big brother, also participated in this crime.   Officers headed out again at 7 this morning, and located Shawn Scott in the 9600-block of Haynes Boulevard.  He attempted to flee out of the back door of a residence, but was quickly apprehended.  Shawn Scott is also booked with 20-counts of Attempted Second Degree Murder.
NOPD has information indicating that both Scott brothers are members of the gang that calls itself the "Frenchmen and Derbigny Boys".
Akein Scott was previously arrested for Illegal Carrying of a Weapon, Illegal Possession of a Stolen Firearm, Resisting an Officer, Contraband to Jail, Illegal Carrying of a Weapon While in Possession of a Controlled Dangerous Substance and Possession of Heroin.
Shawn Scott currently has 4 warrants out for his arrest, including Illegal Carrying of a Weapon, Possession with the Intent to Distribute a Controlled, Dangerous Substance and traffic attachments.  He was currently on parole for Possession with the Intent to Distribute Heroin and Possession of Cocaine until 12/2015.
Shawn Scott was previously arrested for Resisting an Officer, Criminal Trespass, traffic violations, Possession of Marijuana, Warrants, Possession of Crack Cocaine, Possession of Heroin and attachments.
Justin Alexander has been previously arrested for Distribution of a Schedule 1 Narcotic, Distribution of a Control Dangerous Substance within 1000 feet of a School. He also has an outstanding Municipal Court Attachment.
Nekia Youngblood has been previously arrested for Driving While Intoxicated.
"The identification, pursuit and arrest of Akein Scott and Shawn Scott makes it clear that we will not accept the culture of death and violence in our city," said Mayor Mitch Landrieu. "I want to thank the New Orleans Police Department and all the local, state and federal agencies who assisted in the capture and all the residents who remained vigilant and provided tips. The people of New Orleans made this happen because as a community we have said enough is enough. The rules of the game have changed on the streets of New Orleans, and we will not let up. Our thoughts and prayers continue to be with all of the victims."
"I'm incredibly proud of this police department for the swift, excellent work it has done on this case.  It truly is an honor to work with the men and women who contributed to this effort, working around the clock to take control of this situation," said Superintendent Ronal Serpas.
"The Fifth District lead detectives- Robert Hurst, Rayell Johnson and Sergeant Gary Lacabe, did an extraordinary job.  And they had an exemplary leader in Commander Chris Goodly and Lieutenant Chris Hart."
"It's also important to thank all members of the US Marshals Fugitive task Force, which includes all local, state and federal agency law enforcement partners.  Their help is invaluable to us."
"We are seeing a game-changing attitude in New Orleans.  By using CrimeStoppers to anonymously and safely report information to police, the fear and intimidation that gangs try to inflict on this community- are becoming things of the past.   Together, the people of New Orleans  and their police force are in control, working together and making New Orleans a safer place," Serpas said.