This is an archived article and the information in the article may be outdated. Please look at the time stamp on the story to see when it was last updated.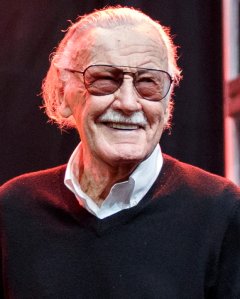 Marvel Comics co-creator Stan Lee has died at 95.
Lee was rushed to Cedars-Sinai Medical Center in Hollywood early this morning, where he passed away, according to TMZ.
In recent years, Lee has been most recognizable from his comic cameos in nearly every Marvel movie.
Lee is survived by his daughter, J.C.
Lee's wife Joan Lee passed away in 2017.
BEVERLY HILLS, CA - AUGUST 02: Stan Lee speaks onstage at the Hollywood Foreign Press Association's Grants Banquet at the Beverly Wilshire Four Seasons Hotel on August 2, 2017 in Beverly Hills, California. (Photo by Kevin Winter/Getty Images)

SAN DIEGO, CA - JULY 22: Writer Stan Lee attends the IMDb Yacht at San Diego Comic-Con 2016: Day Two at The IMDb Yacht on July 22, 2016 in San Diego, California. (Photo by Rich Polk/Getty Images for IMDb)

SAN DIEGO, CA - JULY 21: Stan Lee and host Kevin Smith on the #IMDboat at San Diego Comic-Con 2017 on the IMDb Yacht on July 21, 2017 in San Diego, California. (Photo by Rich Polk/Getty Images for IMDb)

HOLLYWOOD, CA - OCTOBER 23: Marvel fan families and kids attend a special screening of Marvel Studios' "DOCTOR STRANGE" in 3D hosted by Stan Lee at the El Capitan Theatre on October 23, 2016 in Hollywood, California. (Photo by Rich Polk/Getty Images for Disney)

HOLLYWOOD, CA - JANUARY 29: Executive producer Stan Lee (L) and actor Chadwick Boseman at the Los Angeles World Premiere of Marvel Studios' BLACK PANTHER at Dolby Theatre on January 29, 2018 in Hollywood, California. (Photo by Jesse Grant/Getty Images for Disney)

HOLLYWOOD, CA - APRIL 23: Actor Vin Diesel (L), writer-producer Stan Lee (C) and Keya Morgan attend the Los Angeles Global Premiere for Marvel Studios? Avengers: Infinity War on April 23, 2018 in Hollywood, California. (Photo by Jesse Grant/Getty Images for Disney)

HOLLYWOOD, CA - APRIL 23: President of Marvel Studios and Producer Kevin Feige (L) and producer-writer Stan Lee attend the Los Angeles Global Premiere for Marvel Studios? Avengers: Infinity War on April 23, 2018 in Hollywood, California. (Photo by Charley Gallay/Getty Images for Disney)

LOS ANGELES, CALIFORNIA - APRIL 12: (EDITORS NOTE: Image Converted from color to Black and White.) Stan Lee attends the premiere of Marvel's 'Captain America: Civil War' at Dolby Theatre on April 12, 2016 in Los Angeles, California. (Photo by Frazer Harrison/Getty Images)