This is an archived article and the information in the article may be outdated. Please look at the time stamp on the story to see when it was last updated.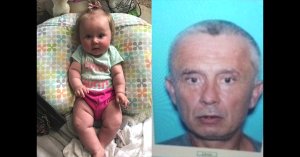 DANVILLE, VA – The seven-month-old baby kidnapped by her convicted sex offender father has been located and is safe, according to the Danville Police Department.
Carl Ray Kennedy kidnapped Emma Grace Kennedy on June 3 from a convenience store, sparking an AMBER Alert and nationwide search.
Carl Ray Kennedy was armed and had just assaulted the baby's mother.
He has been arrested and is in custody in North Carolina.
Danville Police, the FBI, the Randolph County Sheriff's Office and U.S. Secret Service agents arrested Kennedy in Randleman, North Carolina today, according to the Danville PD.
The baby appears to be in good health and has been taken to a hospital for a checkup.
The AMBER Alert has been cancelled.