This is an archived article and the information in the article may be outdated. Please look at the time stamp on the story to see when it was last updated.
BELLA CHASSE, La. (WGNO) – A Plaquemines Parish woman has been charged with first-degree murder for allegedly poisoning her son with alcohol, hand sanitizer and perfume which led to his death in January.
At a press conference Wednesday, the Plaquemines Parish Sheriff's Office says Erika Wigstrom confessed to poisoning 17-month-old Lucas Ruiz twice.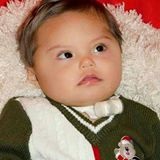 On January 24, first responders were called to Wigstrom's home in regards to a child who was not breathing and had no pulse.  Lucas was pronounced dead at the hospital that day.
An autopsy revealed Lucas had died from acute ethanol intoxication.
Detectives investigating his death first centered their case around Lucas' father, Cesar Ruiz.  Ruiz was arrested and charged in October for allegedly pouring rum down his son's feeding tube.
At that time pediatric intensive care unit discovered the toddler had a blood alcohol level of 0.289.
On February 7, Ruiz was charged in Jefferson Parish for the crime of 2nd degree cruelty to a juvenile. His case is pending in Jefferson Parish 24th Judicial District Court.
In March, during an interview with detectives, Wigstrom, Lucas' 20-year-old mother confessed to injecting hand sanitizer into her son's feeding tube the day before he died.
Wigstrom also admitted to detectives that she injected perfume into Lucas' feeding tube, while he was being treated at Ochsner Hospital in Jefferson in October.
According to the report, Wigstrom told detectives that her boyfriend, Cesar Ruiz, was not the person that poisoned Lucas in October and that she in fact was the person who injected and poisoned her son.
Wigstrom said she poisoned her son because she didn't want to see him suffer any longer.