This is an archived article and the information in the article may be outdated. Please look at the time stamp on the story to see when it was last updated.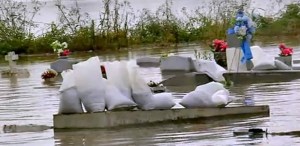 BELLE ROSE, La. (WGNO) – It's a sight no one should see — coffins of loved ones floating away.  Flash flooding from a rain storm had many families grabbing sandbags and rushing to a cemetery in Assumption Parish Wednesday in hopes to keep the dead buried.
About a foot of water surrounded crypts and headstones at the Rosehill Baptist Cemetery in Belle Rose. WBRZ reports, at least a dozen crypts had moved from their final resting place.
"This is getting to be ridiculous," Erwin Bell told the ABC affiliate in Baton Rouge. "You know, when we bury someone, we expect them to stay buried, not to have a little rain come and force that grave back up."
Some people even moved caskets to higher ground.
"My husband helped them take a grave from out of the road, and bring it down to South Hall," said Christel Diggs, who lives across the street from Rosehill Cemetery.
But according to those helping this isn't the first time Rosehill has flooded.
"Last year I had to come, my dad and brother's grave was floating up," Bell said.