This is an archived article and the information in the article may be outdated. Please look at the time stamp on the story to see when it was last updated.
Mardi Gras 2017 is finally here!
With over 50 days between King's Day and Mardi Gras Day, this year's Carnival season is particularly long.
More than 100 parades will roll in the New Orleans area by the time it's all said and done.
Take a look at the complete Mardi Gras 2017 parade schedule below. Click on the individual dates to skip to that day:
February 11, February 12, February 17, February 18, February 19, February 22, February 23, February 24, February 25, February 26, February 27, February 28,
Saturday, February 11
Krewe of Bilge, Slidell, 12:00 PM
Krewe of Poseidon, Slidell, 1:00 PM
Krewe of Mona Lisa and MoonPie, Slidell, 7:00 PM
Krewe du Vieux, French Quarter, 6:30 PM
krewedelusion, French Quarter, follows
Sunday, February 12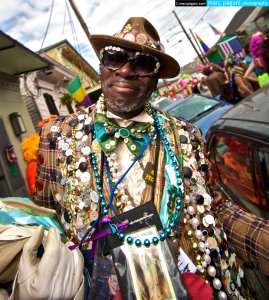 Krewe of Little Rascals, Metairie, 12:00 PM
Krewe of Slidellians, Slidell, 1:00 PM
Krewe of Perseus, Slidell, follows
Krewe of Des Petite, Golden Meadow, 1:00 PM
Friday, February 17
Krewe of Cork, French Quarter, 3:00 PM
Krewe of Oshun, Uptown, 6:00 PM
Krewe of Cleopatra, Uptown, 6:30 PM
Krewe of Excalibur, Metairie, 7:00 PM
Krewe of Athena, Metairie, 7:30 PM
Krewe of Eve, Mandeville, 7:00 PM
Krewe of Hercules, Houma, 6:00 PM
Krewe of Omega, Hammond, 6:30 PM
Saturday, February 18
Krewe of Paws, Slidell, 10:00 AM
Krewe of Titans, Slidell, 6:30 PM
The Mystic Knights of Adonis, Westbank, 11:45 AM
Krewe of Tchefuncte, Madisonville, 1:00 PM
Knights of Nemesis, Chalmette, 1:00 PM
Krewe of Pontchartrain, Uptown, 1:00 PM
Krewe of Choctaw, Uptown, follows
Krewe of Freret, Uptown, follows
Knights of Sparta, Uptown, 6:00 PM
Krewe of Pygmalion, Uptown, 6:15 PM
'tit Rex, Marigny, 5:00 PM
Krewe of Chewbacchus, Marigny, 7:00 PM
Krewe of Caesar, Metairie, 6:00 PM
Krewe of Olympia, Covington, 6:00 PM
Krewe of Tee Caillou, Chauvin, 12:00 PM
Krewe of Aquarius, Houma, 6:30 PM
Le Krewe of Des T-Cajuns, Larose, 12:00 PM
Sunday, February 19
Krewe of Femme Fatale, Uptown, 11:00 AM
Krewe of Carrollton, Uptown, follows
Krewe of King Arthur and Merlin, Uptown, follows
Krewe of Alla, Uptown, follows
Krewe of Dionysus, Slidell
Krewe of Barkus, French Quarter, 2:00 PM
Krewe of Hyacinthians, Houma, 12:00 PM
Krewe of Titans, following Krewe of Hyacinthians, Houma
Krewe of Versailles, Larose, 12:00 PM
Krewe of Shaka, Thibodaux, 12:00 PM
Krewe of Ambrosia, Thibodaux, 2:00 PM
Wednesday, February 22
Krewe of Druids, Uptown, 6:30 PM
Krewe of Nyx, Uptown, 7:00 PM
Thursday, February 23
Knights of Babylon, Uptown, 5:30 PM
Knights of Chaos, Uptown, 6:15 PM
Krewe of Muses, Uptown, 6:30 PM
Friday, February 24
Krewe of Bosom Buddies, French Quarter, 11:30 AM
Krewe of Hermes, Uptown, 6:00 PM
Krewe d'Etat, Uptown, 6:30 PM
Krewe of Morpheus, Uptown, 7:00 PM
Krewe of Selene, Slidell, 6:30 PM
Krewe of Centurions, Metairie, 7:00 PM
Original Krewe of Orpheus, Mandeville, 7:00 PM
Krewe of Aphrodite, Houma, 6:30 PM
Krewe of Athena, Golden Meadow, 7:00 PM
Saturday, February 25
Krewe of NOMTOC, West Bank, 10:45 AM
Krewe of Iris, Uptown, 11:00 AM
Krewe of Tucks, Uptown, 12:00 PM
Krewe of Endymion, Mid-City, 4:15 PM
Krewe of Isis, Metairie, 6:30 PM
Krewe of Mardi Gras, Houma, 6:30 PM
Krewe of Apollo, Lockport, 12:00 PM
Krewe of Atlantis, Golden Meadow, 12:00 PM
Krewe of Lul, Luling, 12:00 PM
Krewe of Towahpasah, Reserve, 1:00 PM
Le Krewe of Dubon Temps, Larose, 6:00 PM
Sunday, February 26
Krewe of Okeanos, Uptown, 11:00 AM
Krewe du Monde, LaPlace, 11:00 AM
Krewe of Mid-City, Uptown, 11:45 AM
Krewe of Thoth, Uptown, 12:00 PM
Krewe of Des Allemands, Des Allemands, 1:00 PM
Krewe of Bacchus, Uptown, 5:15 PM
Corps de Napoleon, Metairie, 5:00 PM
Krewe of Terreanians, Houma, 12:30 PM
Krewe of Montegut, Houma, 2:00 PM
Krewe of Cleophas, Thibodaux, 12:30 PM
Krewe of Chronos, Thibodaux, 1:30 PM
Krewe of Nereids, Golden Meadow, 6:00 PM
Monday, February 27
Krewe of Proteus, Uptown, 5:15 PM
Krewe of Orpheus, Uptown, 6:00 PM
Krewe of Cleopatra, Houma, 6:30 PM
Tuesday, February 28
Krewe of Zulu, Uptown, 8:00 AM
Krewe of Rex, Uptown, 10:00 AM
Krewe of Elks Orleans, Uptown, follows
Krewe of Crescent City, Uptown, follows
Krewe of Argus, Metairie, 10:00 AM
Krewe of Elks Jefferson, Metairie, follows
Krewe of Jefferson, Metairie, follows
Krewe of Lyra, Metairie, 10:00 AM
Krewe of Houmas, Houma, 11:00 AM
Krewe of Kajuns following Houmas
Krewe of Bonne Terre, Houma, 4:00 PM
Krewe of Neptune, Galliano, 12:00 PM
Krewe of Ghana, Thibodaux, 1:00 PM
Krewe of Tomorrow, Gramercy/Lutcher, 1:30 PM
Krewe of Maasai, Thibodaux, 2:00 PM