This is an archived article and the information in the article may be outdated. Please look at the time stamp on the story to see when it was last updated.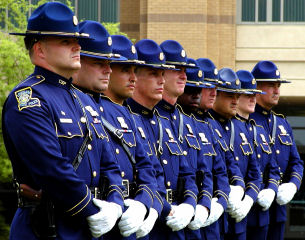 (Louisiana State Police) – The Louisiana State Police has been selected by the North American Association of Uniform Manufacturers & Distributors (NAUMD) as the best dressed state agency in the country.  This is the second time that the department has received this recognition.
NAUMD has represented the uniform and image apparel industries since 1933.  Its 500+ members include manufacturers, designers, producers, and retailers of uniforms, as well as those who produce products and services for the industry at large.
Now in its 36th year, the Best Dressed Public Safety Awards is open to all public safety departments across North America.  Participants must submit a completed entry form, as well as photographs depicting the various uniforms in their program.  An independent panel of experts reviews each department's professional appearance and uniform diversity, paying close attention to detail and written standards.
"As an agency, it is always nice to receive positive recognition and we are thankful to NAUMD for this award," said Colonel Mike Edmonson, State Police Superintendent.  "The Louisiana State Police has always taken great pride in the uniform that we wear as it represents our commitment to the citizens of Louisiana to whom we serve.  The Louisiana Trooper uniform continues to be one of the most recognizable in the country with its color scheme and our state clearly represented through the shape of the badge and patches."
The Louisiana State Police has worn several uniform variations over its 76 year history. The current uniform was adopted in 1973.