This is an archived article and the information in the article may be outdated. Please look at the time stamp on the story to see when it was last updated.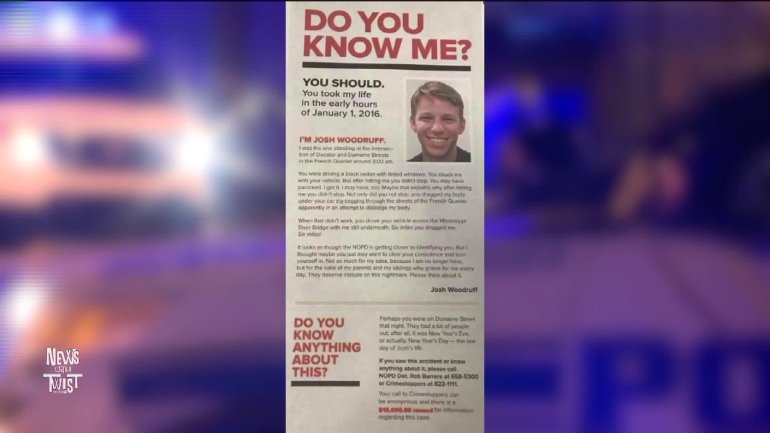 NEW ORLEANS –  Under the smiling photograph are the words Josh Woodruff might have written if he had survived the hit-and-run accident two years ago.
Instead, it's a chilling appeal for information about Woodruff's death in the early morning hours of New Year's Day, 2016.
"You struck me with your vehicle," it reads, "but after hitting me you didn't stop. You may have panicked. I get it. I may have too."
Woodruff, a Harvard graduate originally from Omaha, was ringing in the new year with friends in the French Quarter.  Detectives believe that he was at the intersection of Decatur and Dumaine streets when he was struck by a dark-colored sedan with tinted windows. But not just struck.
"You dragged my body under your car, zig-zagging through the streets.. in an attempt to dislodge my body."
"When that didn't work, you drove your vehicle across the Mississippi River Bridge with me still underneath.  Six miles you dragged me. Six miles! "
The message has been shared on several media sites, including the Facebook page, "Find Josh's Killer."
After nearly two years with no known suspect and no trace of the car, the NOPD announced in November that the investigation was being transferred from the traffic division to the homicide division. The police also released new surveillance camera photographs of the car they believe struck Woodruff.
The photographs are hard to make out, but they show distinctive, slanted headlights.  The license plate is not visible.
NOPD also is looking for two people, pictured here, who may have witnessed the horrific crime.
Crimestoppers is offering a $15,000 reward for information, and the post ends with one last appeal to the unknown driver.
"You just may want to clear your conscience and turn yourself in. Not so much for my sake.. but for the sake of my parents and my siblings who grieve for me every day. They deserve closure on this nightmare."