This is an archived article and the information in the article may be outdated. Please look at the time stamp on the story to see when it was last updated.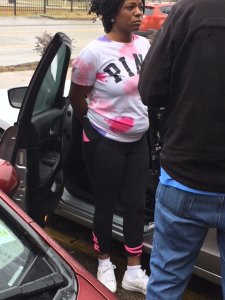 MANDEVILLE – One of the women accused of pulling off a brazen theft at a Mandeville Victoria's Secret store has been arrested in Baton Rouge.
A tip helped lead authorities to 29-year-old Alicia Maloid, who was arrested at her home on McClelland Drive, according to the Mandeville Police Department.
Maloid faces charges of armed robbery, which carry a 10 year sentence, in the December 12 robbery.
Maloid and four other unidentified women were caught on surveillance video carrying out the strong-arm robbery, during which they used a stun gun and pepper spray to make off with over $1,500 in merchandise.
Two of the suspects were armed, one with mace, the other with a stun gun.
Police say one of the suspects sprayed two of the employees with the mace while a third employee was shocked with the stun gun.
Detectives are still actively searching for Maloid's accomplices.
Tips poured in after the robbery, allowing detectives to secure a warrant for Maloid's arrest.
"As Chief of Police I would like to commend my officers, detectives and dispatchers who gathered information, screened calls, emails and social media messages to put together a solid case which ultimately netted a violent offender," Mandeville Police Chief Gerald Sticker said. "I would also like to thank the public and the media for their interest and for helping us 'shake the bushes!' Once again we showed how it's done; each of us doing our part to preserve our unique quality of life!"