This is an archived article and the information in the article may be outdated. Please look at the time stamp on the story to see when it was last updated.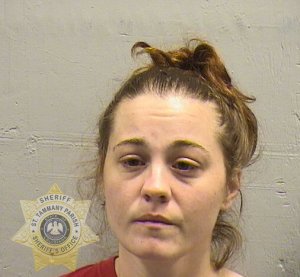 GOODBEE, La. – A 28-year-old woman is behind bars after police say she stabbed her boyfriend multiple times, and the boyfriend is also destined for a jail cell due to a domestic dispute the couple had earlier this month.
Kristin Copeland has been booked into the St. Tammany Parish on one count of aggravated second degree battery, according to the St. Tammany Parish Sheriff's Office.
Deputies responding to reports of a disturbance found Copeland's 31-year-old boyfriend Patrick Day lying in the woods about 10 yards from the road around 6:30 a.m. on October 17, according to the STPSO.
Day had been stabbed several times, and he was airlifted to a local hospital with wounds that are not expected to be life threatening.
As soon as he is released from the hospital, Day will be booked on warrants for domestic abuse battery strangulation, criminal damage, and aggravated assault with a firearm stemming from an October 7 domestic violence incident between the couple, according to the STPSO.