This is an archived article and the information in the article may be outdated. Please look at the time stamp on the story to see when it was last updated.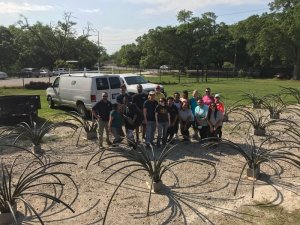 NEW ORLEANS – Volunteers have begun installing artificial reefs in lagoons, bayous and ponds around City Park.
The 23 artificial freshwater reefs are designed to become permanent homes for fish and increase fishing opportunities throughout City Park, according to the Louisiana Department of Wildlife and Fisheries.
Each reef is constructed from spare PVC pipes donated by Atmos Energy and Entergy.
Volunteers from Atmos, the Marriott, and the Ritz Carlton joined City Park staff to install the reefs on April 26.
The reefs have been installed in four areas: along Marconi Drive in front of the fishing pier, in the Museum Pond, along Zachary Taylor Drive, and in Bayou Metairie.
For locations of all LDWF artificial reefs, check out our the Outdoor Explorer Map Tool at http://arcg.is/0GuDKb and click the "Get on the Water" tab.