This is an archived article and the information in the article may be outdated. Please look at the time stamp on the story to see when it was last updated.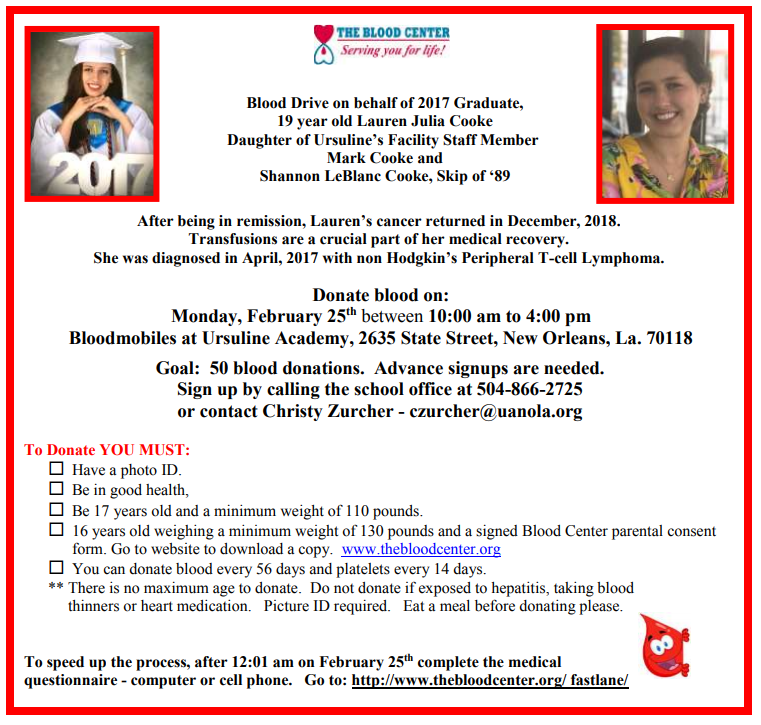 NEW ORLEANS – Ursuline Academy is hosting a blood drive next week for a 2017 alumni.
In April 2017, Lauren Cooke was diagnosed with Peripheral T-cell Lymphoma.
After being in remission, Lauren's cancer returned.
Blood transfusions are a crucial part of the 19-year-olds recovery.
The blood drive will be on Monday, February 25, from 10 A.M. to 4 P.M. at Ursuline Academy.
All donors must register in advance, by sending an email to czurcher@uanola.com or by calling the school at (504) 866-2725.
All donors must meet the following requirements:
Have a photo ID
Be in good health
Be 17 years old and a minimum weight of 110 pounds
16 years old weighing a minimum weight of 130 pounds and a signed Blood Center parental consent form.  Download here.
** You can donate blood every 56 days. There is no maximum age to donate. Do not donate if exposed to hepatitis, taking blood
thinners or heart medication. Eat a meal before donating please.