This is an archived article and the information in the article may be outdated. Please look at the time stamp on the story to see when it was last updated.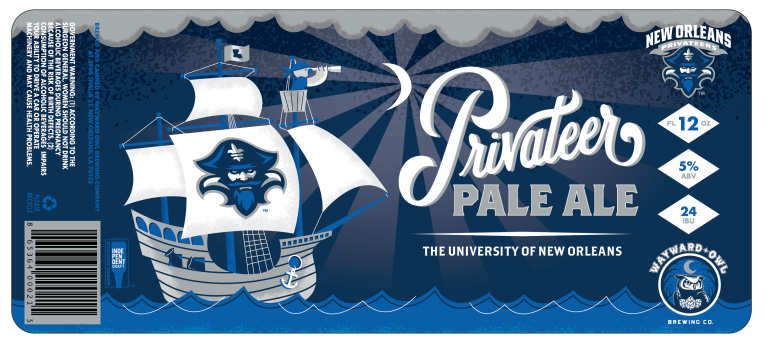 NEW ORLEANS — Wayward Owl Brewing Co. and the University of New Orleans have teamed up to create Privateer Pale Ale.
The Belgian-style pale ale is the newest offering from the locally-owned craft brewery located in the Broadmoor neighborhood. It is UNO's first officially licensed beer.
"This collaboration has been a really fun process, and we could not be more excited to have been chosen to represent the Privateers," said Justin Boswell, founder and head brewer of Wayward Owl Brewing Co. "We believe that local partnerships like this push us to be more innovative in how we support our community. We hope alumni and friends of the University enjoy the beer; they should ask for it at their favorite watering hole."
Privateer Pale Ale is already available at Wayward Owl's taproom, 3940 Thalia St., and at the Sandbar, the jazz venue located inside The Cove on UNO's campus.
It is also on tap at a variety of other bars in New Orleans and Metairie, as well as limited locations in Baton Rouge and Lafayette.
Before the end of the year, the beer will be sold in cans at local specialty stores including 504 Craft Beer Reserve, Rouse's, Breaux Mart, Whole Foods and select bars and restaurants on both the South Shore and the North Shore.
"We are proud to have worked so closely with the talented craft brewers at Wayward Owl in order to bring Privateer Pale Ale to Louisiana," said UNO President John Nicklow. "We think this will generate Privateer pride among our alumni and members of the community. This is another example of the University engaging in mutually beneficial partnerships, and we could not be any happier with the final product."
According to Boswell, Privateer Pale Ale has a malty but slightly dry and spicy fruit aroma. He said it has a malty and rich taste up front and finishes with notes of dry fruit and spice.
"At 5 percent ABV (alcohol by volume), we think this is the perfect Belgian session beer," Boswell said.