This is an archived article and the information in the article may be outdated. Please look at the time stamp on the story to see when it was last updated.
NEW ORLEANS (WGNO) – Voodoo Fest 2016 has come and gone, again, bringing in some serious star power, including acts like The Weeknd, Tool, Arcade Fire, the Chainsmokers and more!
The Altar stage had some great big screens that allowed fest goers to view the action pretty clearly, even if they were a football field length away. The Weeknd, Tool and Arcade Fire were all featured on this stage. Very popular performers that all delivered.
.@theweeknd killing it at #VoodooFest pic.twitter.com/Shu94CHosP

— Jacki Jing (@JackiJing) October 31, 2016
//platform.twitter.com/widgets.js
I'm not a huge rap fan and I actually found G-Eazy's performance very engaging. He came out of the gate with energy and enthusiasm, emphatically bouncing around the stage, rapping passionately. Great showman.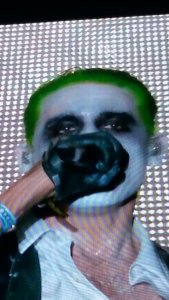 G-Eazy performing in Joker costume
Heart-pounding EDM sounds, eye-catching light shows with pyrotechnics and exuberant crowds could be seen at the LePlur Stage.
My personal favorite of the entire festival was Porter Robinson. The DJ's special effects were my favorite, some really beautiful art and anime showcased. His music had great flow too, balancing hooks and drops with some real serene moments. I thought it was an incredibly engaging set, that had some real melodic points.
.@porterrobinson #voodoofest pic.twitter.com/lfEsI2Gnzh

— Jacki Jing (@JackiJing) October 31, 2016
//platform.twitter.com/widgets.js
The Chainsmokers also brought out all the stops for their performance. I have been to Coachella, Buku Fest, Bunbury — festivals all across the country — and they really wanted to entertain.  A lot of throwback songs, including Blink182, MGMT, Dr. Dre. Super fun performance!
Already missing #VoodooFest @TheChainsmokers pic.twitter.com/xwygwtdw48

— Jacki Jing (@JackiJing) October 31, 2016
//platform.twitter.com/widgets.js
There were also plenty of local favorites, like the Preservation Hall Jazz Band!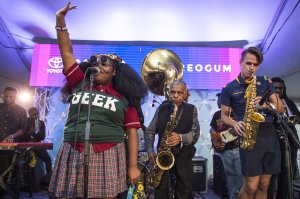 Tank and The Bangas Perform with Preservation Hall Jazz Band
As the festival advertises, Voodoo Fest is musical gumbo, featuring rock to rap to EDM to jazz. Again, delivering for 2016.