This is an archived article and the information in the article may be outdated. Please look at the time stamp on the story to see when it was last updated.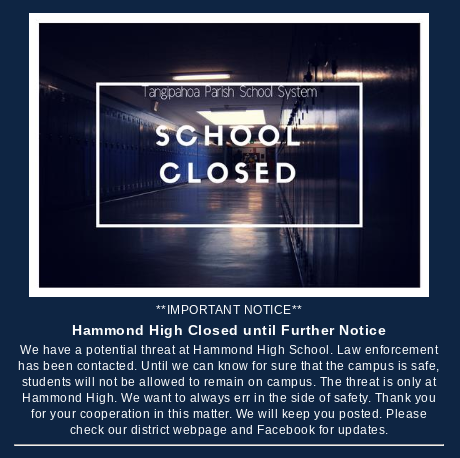 HAMMOND – Hammond High Magnet School has been closed after an unspecified threat on campus.
The Tangipahoa Parish School System posted a notice on its official Facebook page announcing the school's closure on November 12.
"We have a potential threat at Hammond High School," the notice reads. "Law enforcement has been contacted. Until we can know for sure that the campus is safe, students will not be allowed to remain on campus. The threat is only at Hammond High. We want to always err on the side of safety. Thank you for your cooperation in this matter."
Students, parents, and teachers are asked to check the Tangipahoa Parish School District Facebook page for updates.