This is an archived article and the information in the article may be outdated. Please look at the time stamp on the story to see when it was last updated.
The pretty redhead with the Russian accent said she had something in common with the National Rifle Association members who'd just heard former Louisiana Gov. Bobby Jindal speak at their annual convention in 2014.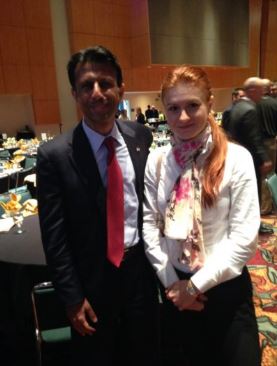 And what she said has stuck with Jindal's chief of staff at the time, Timmy Teepell, ever since.
Teepell says he was with Jindal at that NRA convention in Indianapolis, when Maria Butina — now accused of being a Russian spy– asked to have her picture taken with the governor.
In what seemed like small talk at the time, Teepell recalls Butina saying that she was part of a gun rights group — in Russia.
"That's weird," Teepell recalls thinking, "I didn't know communists were allowed to have guns!"
Reached in Missouri, where Teepell is assisting the election campaign of GOP Senate candidate Josh Hawley, Teepell said he and Jindal talked about the photo yesterday after it surfaced on social media along with several other photos of Butina posing with prominent Republican politicians.
Teepell says he and his former boss are both dumbfounded by the revelation this week that Butina was allegedly part of a Russian effort to influence American politics.  She was arrested by the U.S. Justice Department Sunday and denied bail today.
According to Teepell, Jindal doesn't remember meeting Butina at all.
"She was (just) one of the dozens of people who came up to get her picture taken with him after the speech," says Teepell, looking back with amazement on the moment when Butina sidled up to the governor.
And that's how something as seemingly innocuous as a request from a fan led to Jindal's smiling picture posted on the Instagram account of an alleged Russian spy.
"Wow," says Teepell, "that's odd!"
This story was written in collaboration with The Bayou Brief, a  Louisiana-based, nonprofit digital publication.