This is an archived article and the information in the article may be outdated. Please look at the time stamp on the story to see when it was last updated.
NEW ORLEANS(WGNO)– It's a New Orleans classic that two native New Orleanians are bringing back after decades of silence. The hilarious duo of Chef John Besh and Cooper Manning are reopening the Pontchartrain Hotel and adding their flair to the traditional Caribbean Room.
Styled to resemble the original version, the new Caribbean Room is prefaced with a lounge, decked with comfortable sofas appropriate to the era of the original room. The walls are lined with works of art Cooper Manning spent years locating and purchasing on the internet.
The partners, Besh and Manning, are a hilarious team. Besh joked with Twist reporter Meghan Kluth that the artwork was all hand-painted by Manning.
"I'm thrilled to be partnered with Cooper. As you can see all of these paintings here were done by Cooper in his early days. Some of his later works are in the other rooms and you'll see those later on," remarked Besh, referring to the large mural in the main dining room.
"I haven't been painting for very long, but I've done a few things," Manning said with a grin on his face. "The decorator seemed to think I had a little bit of an eye, a little bit of a talent, so he was nice enough to display a few things. These were all in my garage. I think my parents will be proud when they see this, they didn't know I had this talent."
All jokes aside, Besh and Manning restored the hotel and its  food and beverage outlets to their former glory. The newly renovated venue will host the Silver Whistle Cafe, Bayou Bar, Caribbean room, and the only new addition to the property, the Hot Tin rooftop bar.
The café will offer a high quality coffee program and crave-worthy grab-and-go breakfast and lunch items from Willa Jean. Chefs Kelly Fields and Lisa White will also introduce inventive new dishes such as a breakfast po-boy (scrambled eggs, white cheddar, andouille, Sriracha hollandaise), smoked salmon scrambled eggs (whipped burrata, crispy bagel), and pecan waffles (bourbon cane syrup, smoked butter) to accompany the legendary classics, like the famed blueberry muffin.
The Bayou Bar, where the New Orleans Saints franchise was famously signed over a beer in 1969, offers a tavern-style ambiance warmed by reclaimed wood, rustic finishes and the original impressionist mural of the bayou on the wall. The Baby Grand piano, a fixture of the previous space takes you back in time.
"It honestly looks like it was just transplanted from 40 or 50 years ago, right in to present day. It looks awesome," admired Besh.
The Caribbean Room will feature rattan furniture, white tablecloths, lush greenery and the room's existing Charles Reinike murals. Warm emerald greens, subdued pink velvet, and classic wood paneling bring a fresh and lush nature to the timeless rooms.
Chef Chris Lusk seeks to evoke nostalgia for the original restaurant, providing a transportive, only-in-New Orleans experience, and recreating several of the restaurant's iconic classics. Those dishes include shrimp saki (Louisiana shrimp, herb butter, fresh noodles), filet de boeuf (crab and chanterelle, creole cream cheese pomme puree, demi glace) and Mile High Pie (vanilla, chocolate, and peppermint ice creams topped with meringue and chocolate sauce).
Lusk will also infuse a fresh, contemporary energy, introducing new menu items that marry deep-rooted Creole traditions with modern flavors and techniques such as pepper roast rack of lamb (fava beans, curry local carrots) and Wagyu beef and beet tartare (puffed beef tendon and preserved orange).

"The Pontchartrain is only five blocks from where I grew up, and so I spent a lot of time riding my bike here, Christmas eve dinners here with my parents (Olivia and Archie Manning), so just to drive by and see it not be the Pontchartrain that I used to know kinda made me sad," said Manning. "Built in 1927, when something like this came along, it was time to make a move. These kind of iconic properties don't trade very often."
They did make a move and are bringing back the old-school favorites with a new wrinkle. The newest edition to the venue is the Hot Tin , the hotel's rooftop bar, boasting a breathtaking 270-degree view of the Mississippi River and downtown New Orleans.
Besh and Manning joked that the bar will stay true to New Orleans culture, and stay open until people stop drinking, unlike some similar rooftop venues in town that close at 9 p.m.
Lusk is in the kitchen, but Besh even let Manning help out in designing the menu. He contributed the cheeseburger to the Bayour Bar's menu, after an argument of who has the worlds best version.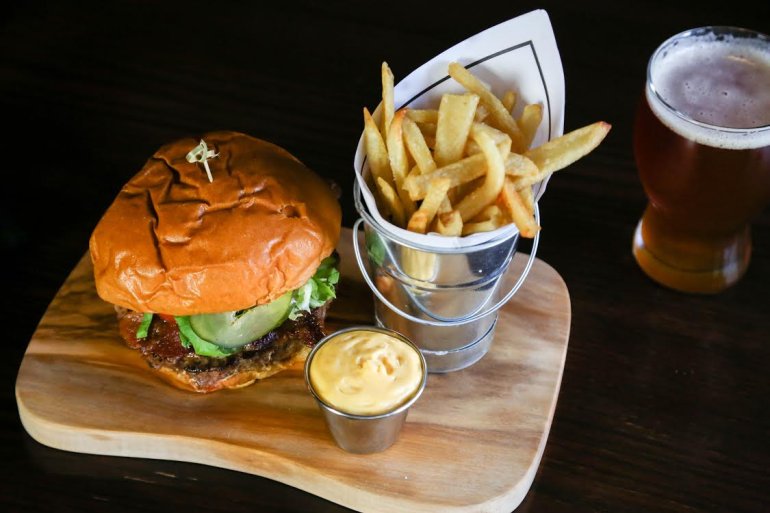 "That's another thing, you want to restore the memories, but you also want to create some new ones, and the cheeseburger here, I have a little bit of a say so in, so I'm proud to be a little bit apart of this," joked Manning.
"I would like to add that both fish that are taxidermied inside the bayou bar were caught by Cooper, bare-handed," Besh added laughing.
The design of the Pontchartrain will reflect the lush color palette and magic light of the Garden District brought to life through the unique personalities of the neighborhood's residents. The lobby includes a Bohemian mix of crimson red, emerald green and whisky gold layered with rattan furniture, antique mirrors and thoughtfully curated art creating a sense of relaxed luxury that honors the Pontchartrain's past while setting a stage for generations of new guests.
The guestrooms were designed to evoke a dreamy, calming sensibility. Both rooms and suites offer a classic and refined color palette of mint, peony pink and ivy-leaf green with an eclectic mix of European and Caribbean furniture creating a cozy multi-textured at-home feel. The art is reflective of people and places that make New Orleans a one-of-a-kind city. Like New Orleans, it makes for a magically transporting space— for work or for sleep.
All the food and beverage outlets will open Friday, June 17.
---
For more stories follow Meghan on social media:
Facebook: MeghanKluthReporter
Twitter: @Kluthfairy
Instagram: @MeghanKluth