This is an archived article and the information in the article may be outdated. Please look at the time stamp on the story to see when it was last updated.
NEW ORLEANS –  As much as 8 to 10 inches of rain fell in isolated areas of the city within three to four hours Saturday afternoon.
City officials are calling the flood a "10-year" event and say the rate of rainfall in some neighborhoods was among the highest recorded in recent history.
There was widespread street flooding across the city, including in Gentilly, Lakeview, Mid City, Treme and the CBD.
There were no reports of loss of life and only minor injuries.
Public safety agencies including New Orleans Police Department, New Orleans Fire Department and New Orleans Emergency Medical Services responded to over 200 emergency calls related to flooding.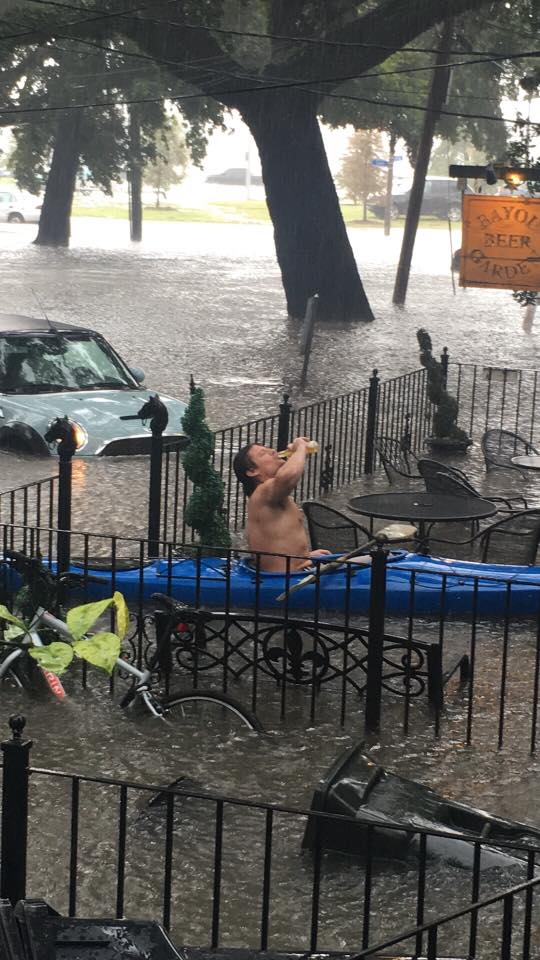 According to the National Weather Service, the City of New Orleans may continue to experience isolated heavy rainfall today, August 6.
With current ground saturation levels, residents should prepare for some additional street flooding and ponding of water.  Residents are advised to use caution around areas prone to significant street flooding during severe weather such as streets under bridges and overpasses.
"Public safety is our top priority, so we are advising residents to continue to monitor weather conditions and stay alert today," said Mayor Mitch Landrieu. "These no-notice rain and flooding events can be very dangerous, but luckily, there was no loss of life.  Today, we begin the hard work of assisting those who flooded and getting our streets passable for regular traffic. With additional rain expected today and the rest of this week, I would encourage all of our residents to clean in front of their catch basins."
Due to the potentially severe danger that could result from high water, residents should call 911 to report street flooding and life-threatening emergencies.  Residents are advised to remain indoors during heavy rainfall unless an emergency makes it absolutely necessary for them to get on the road. The New Orleans Police Department will ticket motorists who drive faster than 5 mph on streets with standing water.
The City will keep residents updated through email alerts and the @NOLAReady Twitter account.
ROAD CLOSURES
There are currently no road closures. Residents are reminded to continue to use caution when driving through areas affected by yesterday's flooding as there are stranded vehicles, debris and potential for pooling water. 
PUMPS
In conjunction with the U.S. Army Corps of Engineers, the City and the Sewerage and Water Board monitor water levels at drainage pump stations, in the outfall canals and in Lake Pontchartrain. The City's drainage system can remove one inch of water from streets in its first hour of operation and a half-inch in subsequent hours.
The Sewerage & Water Board has reported that all 24 of its pumping stations were on and working throughout yesterday's event.
The permanent pump stations at the 17th Street Canal, London Avenue Canal and Orleans Avenue Canal were not operational as they are intended for use during a tropical storm surge event when the flood gates are closed.  They are not operational during heavy rains only.
STRANDED VEHICLES
Stranded vehicles and debris are making some intersections impassible. Residents with stranded vehicles in the middle of the roadway or an intersection are expected to move their vehicles to the side of the road, preferably a parking lane, immediately.  To reopen traffic flow, the Department of Public Works and NOPD may have to "courtesy tow" vehicles to the side of the roadway.   Additionally, some vehicles abandoned on interstate or major roadway ramps may have to be towed to the City's impound lot, but residents will not be charged to retrieve vehicles.
PARKING ON NEUTRAL GROUND
With additional rain expected today, residents will be allowed to park on the neutral ground, so long as to not block intersections or to park on streetcar tracks.   All vehicles must be removed, however, by midnight tonight so that RTA and other services can operate as normal on Monday morning.
SANITATION, DEBRIS AND OTHER INFORMATION
The public is encouraged to call 311 for general information and to report non-life threatening emergencies such sidewalk and road problems or debris. 311 will continue taking calls from 10:30 a.m. until 6 p.m. tonight.
Sanitation collection will occur as scheduled.
For properties eligible for collection by the City:
Tree limbs, branches and carpeting must be cut in four feet (or less) lengths and bundled.  Tree limbs cannot be more than 12 inches in diameter.
Leaves should be bagged and the bags secured.
Garbage and recycling carts should be secured on the associated property, between collections, to avoid spillage during heavy winds, rains and flooding.
FILING CLAIMS
The City has compiled basic information on what to do after flooding:. The City reminds residents to document damage by taking photos.
CLEANING FLOODED PROPERTY SAFELY
Please visit ready.nola.gov for more information.