This is an archived article and the information in the article may be outdated. Please look at the time stamp on the story to see when it was last updated.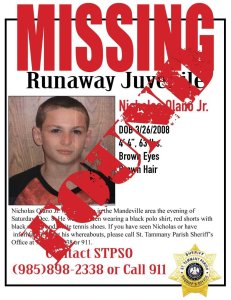 MANDEVILLE – A 10-year-old boy who ran away from a correctional center over the weekend was found this morning hiding in the woods.
The St. Tammany Parish Sheriff's Office began an intensive search for Nicholas Olano Jr. on December 8 after he was reported missing from a facility near Mandeville.
A STPSO helicopter, a Louisiana State Police helicopter, a drone, K-9 units from the B.B. Rayburn Correctional Center, and deputies on ATVs and on foot searched for the missing boy.
Olano was found at 8:42 a.m. on Monday morning hiding in a heavily wooded area, and he was transported to a local hospital for evaluation.
Despite being other tired, cold, and hungry, he appears to be in good health, according to the STPSO.