This is an archived article and the information in the article may be outdated. Please look at the time stamp on the story to see when it was last updated.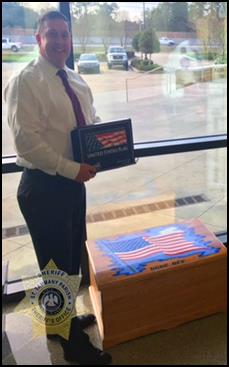 ST. TAMMANY PARISH, La. – The St. Tammany Parish Sheriff's Office is collecting tattered American flags to ensure the flags are disposed of correctly.
Sheriff's Office buildings on both sides of the parish now have special wooden boxes that will serve as designated flag drop off spots.
St. Tammany resident Alan Smith spearheaded the effort to create and install the flag retirement boxes after seeing the need for the service.
"I see too many people throwing the flag in the trash or burning it without knowing how it should be handled," Smith said. "My objective is to insure that residents of the parish understand that there is a process and the Sheriff's Office in partnership with the Boy Scouts will take care of the proper protocol."
Boy Scout troops across the parish will receive the tattered flags and dispose of them in a retirement ceremony designed to honor the flags as they are retired.
The boxes, which were built by trustee inmates at the St. Tammany Parish Jail, can be found at the STPSO Law Enforcement Complex, 2070 Collins Blvd., Covington and at the Slidell Administrative Building at 300 Brownswitch Rd.
Flags can be dropped off during regular office hours, 8 a.m. to 4:30 p.m., Monday through Friday.
"The American flag symbolizes our freedom and everything our great nation stands for. It's our honor to play a role in properly handling it," St. Tammany Parish Sheriff Randy Smith said.