This is an archived article and the information in the article may be outdated. Please look at the time stamp on the story to see when it was last updated.
NEW ORLEANS — Monuments, hurricanes, tornadoes … It was a busy year in the New Orleans news business.
From December 25-December 29, WGNO-News with a Twist is bringing you the top 10 stories of the year — the ones you clicked on most — two at a time.
Here are the No. 8 and No. 7 most popular stories of 2017 (Click here for No. 10 and No. 9):
8. The 2017 hurricane season was one for the books!
2017 will go down as being tied for the fifth most active hurricane season in the Atlantic since records started in 1851 — and the most active season since 2012.
This year, not only did we have 10 hurricanes, but they occurred sequentially, tying the record for greatest number of hurricanes in a row. Hurricanes occurred from Franklin to Ophelia. Overall we had 17 named storms, 6 tropical storms and 11 hurricanes, 6 of which were major hurricanes: Harvey, Irma, Jose, Lee, Maria, Ophelia.
We watched floodwaters from Harvey devastate Houston and parts of Southwest Louisiana and Texas, while Irma, Jose and Maria wiped out their share of islands in the Caribbean, like Virgin Islands and Puerto Rico.
New Orleans was spared from a hurricane, as the odd Hurricane Nate shifted and weakened before causing destructive wind and storm surge for Coastal Mississippi.
7. 'Sorry I Tried to Bite You': Louisiana woman buys apology cake for officer after arrest
A Louisiana woman tried to bite a police officer after she had too much to drink, and she tried to atone for her mistake in a very public and viral way.
Celina Dally of Lake Charles had a few too many glasses of wine at a McNeese University wine tasting event, and woke up behind bars for public intoxication and assaulting a police officer.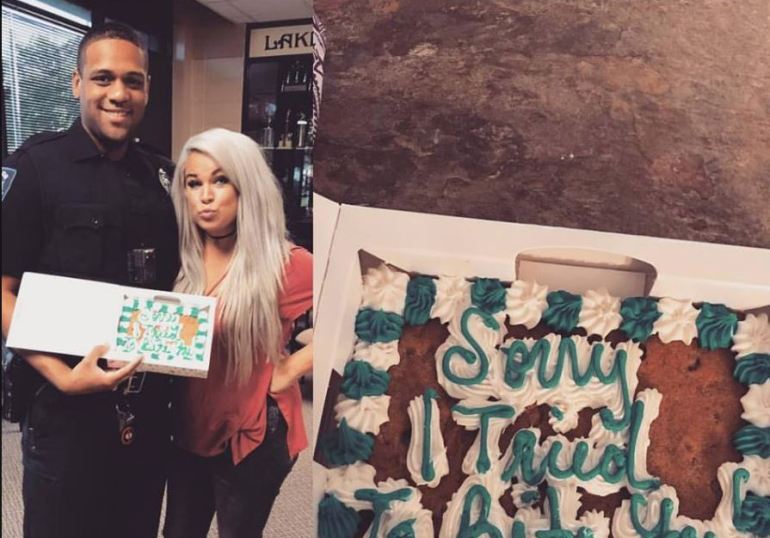 She posted photos on Facebook (the post has since been removed from public view) after her arrest that show her buying a cake for the officer she reportedly assaulted while drunk.
The cake said, "Sorry I Tried to Bite You."