This is an archived article and the information in the article may be outdated. Please look at the time stamp on the story to see when it was last updated.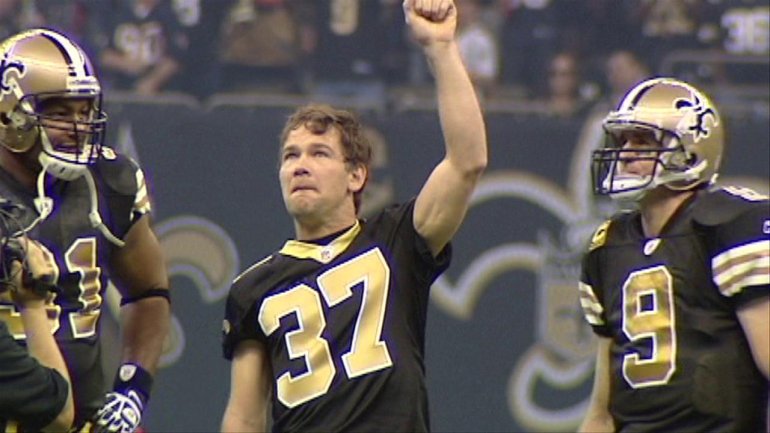 WASHINGTON – Former New Orleans Saint Steve Gleason will be honored with the Congressional Gold Medal in 2019.
Gleason, who has been a tireless advocate for those suffering from ALS since his own diagnosis, will be honored for his advocacy work.
The bill, which was written by U.S. Senator Bill Cassidy, M.D., was unanimously passed by the Senate in June, and will next be sent to the office of the president to be signed into law.
"Through his work to help others who are disabled, Steve Gleason has changed so many lives for the better," Cassidy said. "As more members of Congress heard about Steve's work, the support for this bill only grew. Steve is a hero to many and I'm proud we got this done to honor a great American."
"New Orleans Saints fans will always remember Steve Gleason's seven spectacular seasons with the team. But it has been Steve's work off the field that truly distinguishes him as an American hero," Senator Kennedy said. "Steve works tirelessly to spread awareness for ALS, all while battling this terrible disease. No one is more deserving of a Congressional Gold Medal than Steve Gleason."
"It is a true honor to witness Steve Gleason become the first New Orleanian and former NFL Legend to receive the Congressional Gold Medal," Saints Owner Gayle Benson said. "Along with his wife, Michel, and everyone at Team Gleason, they have unfailingly confronted ALS with a courageous and unwavering determination. Their tireless work to provide crucial assistance and the latest in technology and services has improved countless people's quality of living. Steve is leaving a truly indelible mark in American history and we are honored to call him a true New Orleans Saint."
"In Louisiana, Steve Gleason inspired all of us as a New Orleans Saint and has continued to inspire us with his bravery and service to others battling ALS," House Majority Whip Steve Scalise said. "More than 5,000 people each year are diagnosed with ALS, and Steve Gleason serves as a leading voice in championing the fight against ALS. I am pleased to announce that to honor this service, Congress is awarding Steve Gleason a Congressional Gold Medal. More than 350 Members of Congress signed on to support this legislation, a sign of how powerful a mark Steve Gleason has made on this country. Thank you, Steve."
The Congressional Gold Medal has in the past been awarded to former presidents, civil rights leaders, military heroes, and distinguished public servants, according to Scalise.
Cassidy, Scalise, U.S. Representatives Cedric Richmond, Cathy McMorris Rogers, and U.S. Senators John Kennedy, Patty Murray, and Maria Cantwell introduced the bipartisan legislation in April.