This is an archived article and the information in the article may be outdated. Please look at the time stamp on the story to see when it was last updated.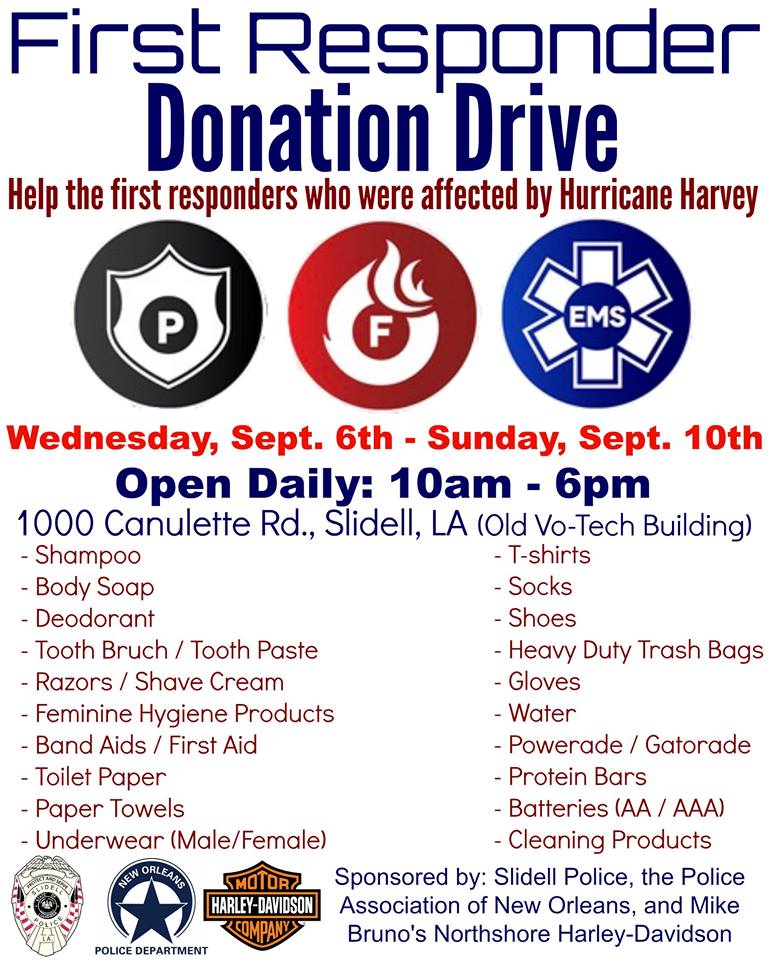 SLIDELL, La. – The Slidell Police Department is holding a First Responder Donation Drive for the heroes of Hurricane Harvey.
The SPD is partnering with the Police Association of New Orleans and Mike Bruno's Northshore Harley-Davidson for the drive, which will kick off on September 6 and run through September 10.
Donations will be collected between 10 a.m. and 6 p.m. at 1000 Canulette Road in Slidell in the old Vo-Tech building, according to the SPD.
The officers organizing the drive are in contact with first responders who were impacted by Harvey to see exactly what they need.
An exact location of where the collected items will be delivered has yet to be determined, according to the SPD.
The items that are being collected include:
Shampoo
Body Soap
Deodorant
Toothbrushes
Toothpaste
Razors
Shaving Cream
Feminine Hygiene Products
Band Aids
First Aid products
Toilet Paper
Paper Towels
Underwear (Male/Female)
T-shirts
Socks
Batteries (AA / AAA)
Cleaning Products
Protein Bars
Powerade / Gatorade
Water
Gloves
Heavy Duty Trash Bags
Shoes
"I know our citizens will do everything they can to help," Slidell Police Chief Randy Fandal said. "These items were what we desperately needed after Hurricane Katrina. The first responders in the affected areas will need help for months to come, and we want to be there to assist them in any way possible."