This is an archived article and the information in the article may be outdated. Please look at the time stamp on the story to see when it was last updated.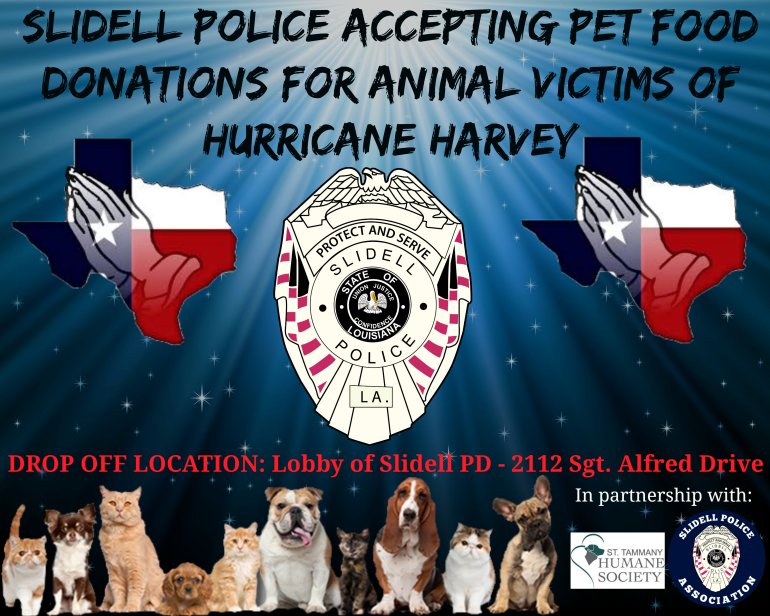 SLIDELL, La. – The Slidell Police Department is accepting donations for the animal victims of Hurricane Harvey.
The SPD is working with the St. Tammany Humane Society and the Slidell Police Association to collect the supplies, which they will deliver to animal shelters in Houston.
"Several organizations are already helping the flood victims, but few are helping our four legged friends," Slidell Police Chief Randy Fandal said.
Once things slow down and the first responders in the Houston area are able to regroup, the SPD will reach out to see what supplies and donations they need, Fandal said.
For now though, the pets are going to be the first priority.
Donations of pet food will start today, and continue throughout the weekend.
Anyone wishing to donate can drop off the pet food in the lobby of the Slidell Police Department at 2112 Sgt. Alfred Drive any time of the day or night.
Every morning, the food will be loaded into a truck and will be brought to the St. Tammany Humane Society on Monday, September 4.
If you have supplies for human flood victims, the Slidell Police Department will gladly accept those as well, and we will then decimate the supplies through the proper channels.
"Our prayers go out to all the victims affected by this storm," Fandal said. "Our goal is to help out as much we can. I know our local community will jump at the chance to assist."