This is an archived article and the information in the article may be outdated. Please look at the time stamp on the story to see when it was last updated.
NEW ORLEANS (WGNO) – There are saints—like St. Michael—and there are Saints—like Drew Brees.
There are even saints—for Saints!
Rob Clemenz is the founder of "Saints for Sinners," a New Orleans company selling brightly colored medals of every saint imaginable.
Patron saint of bartenders? "That would be Martin of Tours," says Clemenz.
Firefighters? "Florian," he replies, without missing a beat.
Television reporters? "St. Clare," is his answer, and he proceeds to tell the story. Clare was a 13th century nun, left behind when all the other nuns in her convent went to Mass. But Clare amazed them when they came back by being able to recite the entire Mass, sight unseen. Hence, St. Clare, a saint for those who report the news!
Pick a profession, hobby, or state of mind, and Clemenz can help you choose the appropriate saint to carry your prayers to Heaven.
Clemenz imports simple, unpainted medallions from Italy, and then transforms them. Each one is hand-painted to Clemenz' specifications by artists like Daniel Erath, carefully dabbing a miniature brush on a "canvas" no bigger than a dime. Each saint—and the company sells more than 200– gets his or her own colors and patterns. "If I don't think they're beautiful they don't go out the door," says Clemenz.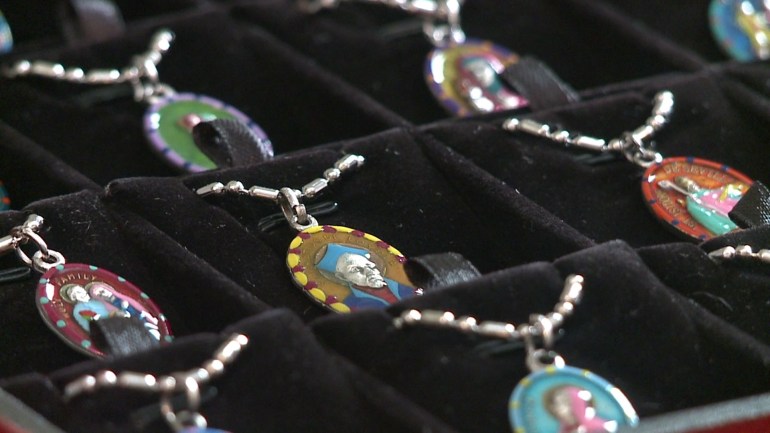 Recently Clemenz introduced a new line of medals he calls "Touchdown Jesus," modeled on a mural at Notre Dame University in Indiana, which depicts Jesus with his arms raised to Heaven. Because the mural overlooks the University's football stadium, it's come to be known as Touchdown Jesus.
In this new line, there's Jesus portrayed as a referee, raising his arms for a Heavenly goal. There's also Jesus in a jersey– just pick your favorite team and player! Even Jesus with a headset, putting the Holy Spirit in Saints Defensive Coordinator Rob Ryan.
But for those who thinks Clemenz takes too many liberties with the Lord, his heart is in the right place.
He's a devout Catholic, who says that, yes, the medals are his business, but that's not why he makes them.
What started as a hobby for Clemenz, has become his passion. "If you go to our website and see the testimonials," he says, "we're helping people."
The "Saints for Sinners" medals and "Touchdown Jesus" medals are both sold at Little Miss Muffin on Harrison Avenue, and they can also be ordered online at saintsforsinners.com and touchdownJesusmedals.com.