This is an archived article and the information in the article may be outdated. Please look at the time stamp on the story to see when it was last updated.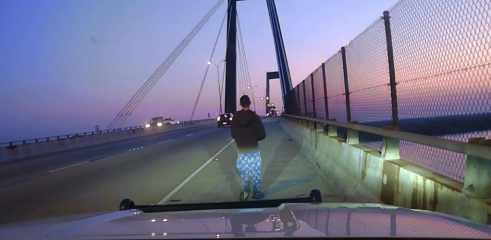 LULING, LA – Police in St. Charles Parish are trying to identify a man who jumped off of the Hale Boggs Bridge just before an officer could reach him.
The incident was caught on dashcam video just before 6 a.m. on July 27, according to the St. Charles Parish Sheriff's Office.
The officer approached the unidentified man, who appeared to be wearing a black sweatshirt and blue pajama pants, from behind as he walked up the shoulder of the bridge from the St. Charles Parish side.
The man sprinted for the barrier and leaped over moments after the officer pulled up behind him.
The officer spotted the man swimming on the Luling side of the Mississippi River far below before he disappeared.
Anyone who has information in relation to the incident, or believes they can identify the unidentified man is urged to contact Detective Jody Weems at (985)783-1135 or contact (985)783-6807.