This is an archived article and the information in the article may be outdated. Please look at the time stamp on the story to see when it was last updated.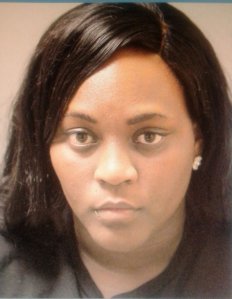 EUNICE, LA – Police have arrested a woman who claimed to have bitten into a razor blade inside a sandwich from a fast food restaurant after determining she had faked the whole thing for insurance money.
On May 15, 29-year-old Correill Bradley told the staff at Mercy Regional Medical Center that she had injured the inside of her mouth when she bit into a sandwich from a fast food restaurant that contained a razor blade, according to the Eunice Police Department.
Bradley initially refused to file a police report once officers arrived at the hospital because she said she didn't want anyone to get in trouble.
She eventually did file a report, but refused to give a written statement.
Bradley said she was driving home just after leaving the fast food restaurant when she took a bite of her sandwich and felt a pain inside of her mouth.
Bradley told police she found the razor blade after she got home.
The officers did not believe Bradley's story, and thought the injuries may have been self-inflicted.
As they were investigating the razor blade and the sandwich, the officers could tell that the razor blade was new and did not appear to have been mixed into any contents of the sandwich, according to the EPD.
The officers then looked into local stores that sold similar razor blades, finding one near the fast food restaurant.
When they reviewed security footage from that store, the officers could see Bradley walking into the store, grabbing a pack of razor blades, and leaving without paying for them.
On the same day as Bradley stole the razor blades and bought a sandwich from the fast food restaurant, she filed an insurance claim with the restaurant's insurance company and contacted a personal injury attorney about representation, according to police.
Security footage from the restaurant showed that no one placed any contraband into Bradley's sandwich.
Investigators obtained a warrant for Bradley's arrest for criminal mischief and theft.
She was arrested on May 18 and may face additional charges as the investigation progresses.