This is an archived article and the information in the article may be outdated. Please look at the time stamp on the story to see when it was last updated.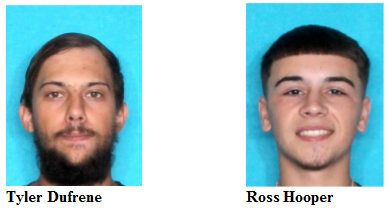 LULING, LA – The St. Charles Parish Sheriff's Office is looking for two men who police say shot a man twice in the back yesterday.
Twenty-one-year-old Tyler Dufrene and 20-year-old Ross Hooper are wanted for the shooting, which took place just before 1:30 p.m. on November 21 on Luling Estates Drive.
An arrest warrant has been issued for attempted second degree murder and possession of a firearm by a convicted felon for Dufrene, while Hooper is wanted on a charge of principal to attempted second degree murder.
The victim is hospitalized in stable condition, according to police.
Anyone who has any information on the whereabouts of these suspects or any information regarding this incident is asked to contact Detective Joseph Dewhirst at (985) 783-1135 or (985) 783-6807.