This is an archived article and the information in the article may be outdated. Please look at the time stamp on the story to see when it was last updated.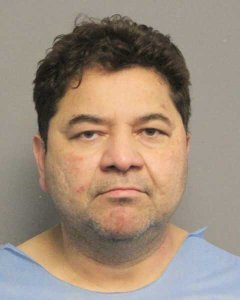 KENNER – An intoxicated NOPD officer was arrested after leading Kenner Police on a high-speed chase that ended in a fiery crash.
Fifty-three-year-old Carlos Peralta got into an argument with the clerk at a CVS Drugstore in the 800 block of West Esplanade Avenue just before midnight on November 24.
The store clerk refused to sell Peralta alcohol because he was obviously inebriated already, according to the Kenner Police Department.
The clerk called the police, and Peralta got behind the wheel of his vehicle and drove away.
Kenner Police officers caught up to Peralta's vehicle in the 1400 block of West Esplanade, where they observed Peralta driving recklessly.
Peralta initially stopped his vehicle when ordered to do so, but then he sped away, according to the KPD.
He led police on a high-speed chase on I-10 that ended with a crash in the 5700 block of Morrison Road in New Orleans East.
The vehicle caught fire after the crash, and a 15-year-old passenger who has been described as Peralta's relative hopped from the burning vehicle and ran to safety.
Peralta, however, refused to exit the burning vehicle, and had to be forcibly removed by arresting officers.
Peralta was arrested after failing a field sobriety test and charged with Operating a vehicle while intoxicated, Aggravated flight from an officer, and Reckless operation of a vehicle.
Kenner Police Chief Michael J. Glaser urges anyone who has any information about these incidents to call the Kenner Police at (504) 712-2222 or Crimestoppers at (504) 822-1111.