This is an archived article and the information in the article may be outdated. Please look at the time stamp on the story to see when it was last updated.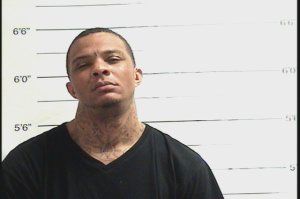 NEW ORLEANS – The NOPD has arrested a man who they say shot an RTA bus driver in the Ninth Ward before bursting into a house and threatening to kill the family who live there.
Thirty-year-old Dimitris Polk boarded a bus on St. Claude Avenue and began acting suspiciously on the evening of February 15.
Polk told the driver he needed to get off in "the middle of the block," and then began yelling at the driver, according to the NOPD.
At some point after that, Polk pulled out a handgun and fired two shots, one of which ricocheted and struck the driver in the arm.
Polk then got off of the bus and ran away.
The bus driver was treated for a laceration to the arm.
None of the other passengers on the bus at the time of the shooting have reported injuries.
Around 10:30 p.m., officers responded to reports of a suspicious person in the 1500 block of Flood Street, about one mile away from the bus shooting.
A man later determined to be Polk burst through the front door of a home armed with a gun and threatened to kill a woman, her husband, and their child, according to the NOPD.
Officers spotted Polk leaving the home and arrested him on the scene.
He has been charged with eight counts of aggravated assault in relation to the bus driver, bus passengers and three victims inside of the home, two counts of illegal use of a weapon, and one count each of aggravated battery, aggravated burglary, felon in possession of a firearm, and aggravated criminal damage to property.
Anyone with additional information in this incident is asked to contact Fifth District detectives at (504) 658-6050.