This is an archived article and the information in the article may be outdated. Please look at the time stamp on the story to see when it was last updated.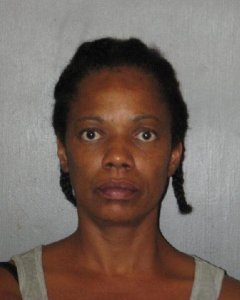 NEW ORLEANS – The NOPD is looking for a woman who stabbed a man in the knee and stole cash from his pocket this morning.
Fifty-one-year-old Joanell Moore was asked to leave the victim's apartment in the 1500 block of North Galvez Street because company was coming over, according to the NOPD.
Moore left, but returned as soon as the company had left to confront the victim.
Moore grabbed a knife from the kitchen and demanded that the victim give her money.
When he refused, she stabbed him in the knee, reached into his pants pocket, and retrieved about $55 before leaving, according to the NOPD.
Anyone with any information on Joanell Moore is asked to contact any First District detective at (504) 658-6010.