This is an archived article and the information in the article may be outdated. Please look at the time stamp on the story to see when it was last updated.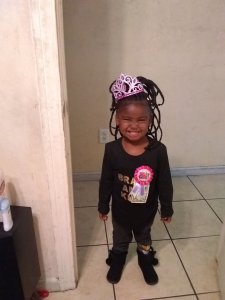 UPDATE: The NOPD located and arrested Kellie Edwards Diggs on November 20, and returned 3-year-old Melanie Edwards to her legal guardian.
NEW ORLEANS – The NOPD has issued an arrest warrant for a woman after police say she failed to return her daughter to the girl's legal guardian.
Twenty-six-year-old Kellie Edwards Diggs does not have custodial rights for her three-year-old daughter, Melanie Edwards.
Diggs asked Edwards' legal guardian to let the girl sleep over at her house on November 17, and permission was granted on the condition that Diggs would return Edwards on November 18, according to the NOPD.
However, when Edwards' legal guardian contacted Diggs on November 18, she turned off her cell phone and blocked the guardian on social media.
Diggs and Edwards haven't been seen or heard from since.
A warrant was obtained for Diggs' arrest for interference with the custody of a child, according to the NOPD.
Anyone with information as to the whereabouts of wanted suspect Kellie Edwards Diggs or Melanie Edwards is asked to contact NOPD Second District detectives at (504) 658-6020 or call anonymously to Crimestoppers at (504) 822-1111 or toll-free at 1-877-903-STOP.