This is an archived article and the information in the article may be outdated. Please look at the time stamp on the story to see when it was last updated.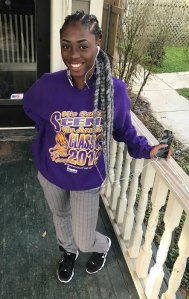 UPDATE: The NOPD has found the vehicle Jernea Lewis drove away in, but the missing teen has yet to be located.
NEW ORLEANS – The NOPD is looking for a missing 16-year-old girl from the Hollygrove neighborhood.
Jernea Lewis was last seen around 8:30 p.m. on March 12 at her home in the 9200 block of Colapissa Street, according to the NOPD.
Lewis is also believed to be in her mother's vehicle, as a silver 2014 Nissan Rogue SUV with Louisiana license plate number 955ARB.
Lewis is about 5'1" tall and weighs about 95 pounds. She was last seen wearing a purple and gray Edna Karr school uniform.
Anyone with information regarding the whereabouts of Jernea Lewis is asked to contact Fourth District detectives at (504) 658-6040.