This is an archived article and the information in the article may be outdated. Please look at the time stamp on the story to see when it was last updated.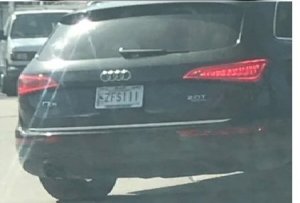 NEW ORLEANS – The NOPD is looking for a man who fired a shot at a Lakeview woman yesterday afternoon after she caught him rummaging through her car.
The woman had just returned from shopping around 2:30 p.m. on March 21 when she stepped inside her home in the 900 block of Walker Street, according to the NOPD.
When she stepped back outside, she saw an Audi SUV pulled next to her vehicle, and several people were going through her car.
The woman told the robbers to get out of her car, and one of the thieves pulled out a gun and fired it toward her while running back to the SUV, which had been reported stolen on March 20.
The stolen Audi SUV has a Louisiana license plate #ZFS111.
Detectives are looking for leads on the SUV and the armed robbers.
Anyone with information regarding this incident should notify Third District detectives at (504) 658-6030.