This is an archived article and the information in the article may be outdated. Please look at the time stamp on the story to see when it was last updated.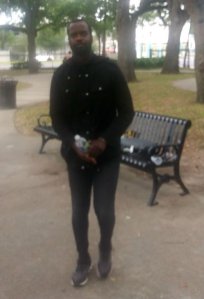 NEW ORLEANS – The NOPD is looking for a man who witnesses say was masturbating while watching children play in a park in the Marigny.
The unidentified man was spotted standing in the bushes and intently watching children in a playground area of the Washington Square Park around 2 p.m. on May 10, according to the NOPD.
One witness shouted at the man to stop what he was doing and leave the park, but instead of leaving, he moved to another group of bushes.
A woman who was in the park with two children confronted the man after seeing him stick his hand down the front of his pants and masturbate while standing in the second location.
The woman snapped a picture of the man as she confronted him.
The man then squirted water from a bottle onto the woman's face and chest before running away, according to the NOPD.
The suspect is believed to be in his late 20s, between 5'10 and 6'0 tall, and weighs about 175 pounds with a short beard and close cropped haircut.
Anyone with additional information on the man or this incident is asked to contact Eighth District detectives at (504) 658-6080, or call Crimestoppers at 504-822-1111 or toll-free at 1-877-903-STOP.