This is an archived article and the information in the article may be outdated. Please look at the time stamp on the story to see when it was last updated.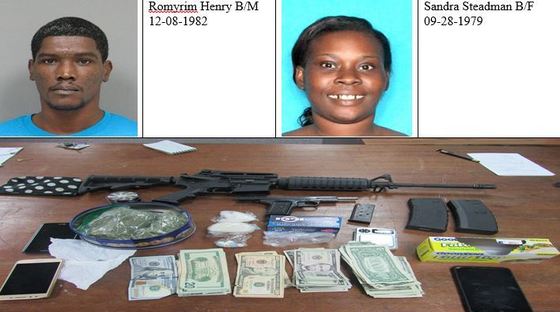 NEW ORLEANS – NOPD detectives found a fully loaded AR-15 rifle, large amounts of crack cocaine and marijuana, pills, and seven malnourished pit bulls during a West Bank drug raid this morning.
Fourth District narcotics detectives and the NOPD's Special Operation Division served a search warrant on a home in the 3600 block of Tasha Place on January 29.
Detectives found one AR-15, a semi-automatic handgun, two bags containing 100 grams of crack cocaine, two bags containing 62 ounces of marijuana, a scale, 10 tablets of oxycodone, 12 Clonazepam tablets, and the seven dogs.
Thirty-five-year-old Romyrim Henry and 38-year-old Sandra Steadman were arrested at the scene and charged with possession of a firearm while in possession of illegal narcotics, possession with the intent to distribute crack cocaine, marijuana, oxycodone, and dog fighting, according to the NOPD.