This is an archived article and the information in the article may be outdated. Please look at the time stamp on the story to see when it was last updated.
NEW ORLEANS – Super Bowl LVIII is coming to New Orleans in 2024.
New Orleans Saints owner Gayle Benson traveled to a meeting of NFL team owners in Atlanta this week.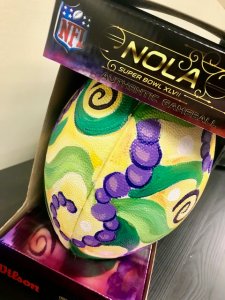 Benson made a formal pitch today, but word leaked earlier this week that the Super Bowl returning to New Orleans is a done deal.
At a press conference this morning, Jay Cicero of the Greater New Orleans Sports Foundation hosted a conference call with Governor John Bel Edwards and Mayor LaToya Cantrell, and Benson called in with the good news.
"We have some great news for New Orleans," Benson said. "We got it!"
This is the first year Super Bowl host cities will be chosen under the new system, which does away with the former bid system traditionally used to determine which city will host the Super Bowl.
"Bringing a Super Bowl to our city for the 11th time is a great accomplishment and a testament to our city and the entire region," Cicero said. "This bid was the culmination of several months of detail, creativity, negotiation and strategy. It wouldn't be possible without the full cooperation the State of Louisiana and the City of New Orleans."
New Orleans has hosted more Super Bowls than almost any other city, the last one occurring in 2013.
"This is an exciting time to be in Louisiana, and we couldn't be happier about hosting the Super Bowl in New Orleans for the 11th time," Edwards said. "This decision by the NFL is further proof that New Orleans is a top tier destination for major sporting and entertainment events. With a $480 million impact to New Orleans, the Super Bowl stands to be a major economic boost to the region. I want to congratulate the Greater New Orleans Sports Foundation for leading the effort, and Mrs. Gayle Benson and the entire New Orleans Saints organization for serving as tremendous ambassadors for Louisiana as they made the final pitch. We look forward to this event and to showing the world, once again, what a great city we have in New Orleans."
Although longtime Saints owner the late Tom Benson couldn't be here for this announcement, Gayle Benson said he was here in spirit.
"Hosting a Super Bowl is synonymous with New Orleans as is the legacy of my husband Tom Benson, I know he is smiling today that we get to share our great city with the world once again in 2024," Gayle Benson said. "This is a great honor and well deserved for our city as New Orleans and our Gulf South region continue to prosper in so many ways."