This is an archived article and the information in the article may be outdated. Please look at the time stamp on the story to see when it was last updated.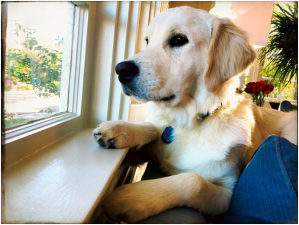 NEW ORLEANS – Not every Mardi Gras Krewe has a very good boy as its king, but the Mystic Krewe of Barkus certainly does.
Baker Williamson, an "excessively handsome" English Golden Retriever, will serve as King Barkus XXVI for Mardi Gras 2018.
The eight-month-old doggo is 58 pounds and turns heads every time he goes for a walk, according to Barkus.
Baker shares a home with his two adopted sisters, Luna, a beagle mix adopted from Zeus' Place, and a Coton de Tulear named Lily.
"I am staying focused on my responsibilities as King of the best Mardi Gras parade for dogs on this planet," King Baker "said," according to a Krewe of Barkus press release. "I am also looking forward to meeting my Queen and the rest of the Royal Court soon. I have never met a real Queen before."
Dogs and their owners are invited to register for this year's Barkus parade, which will take to the streets on February 4 with the theme "Game of Bones: Barkus Marks its Territory."
A pre-parade "pawty" will kick off at 10:30 a.m. in Armstrong Park, and the parade is expected to start at 2 p.m.
All proceeds from Barkus, a non-profit organization founded by Wood Enterprises, benefit animal organizations in New Orleans and the Gulf South area.
Click here to register for Barkus.