This is an archived article and the information in the article may be outdated. Please look at the time stamp on the story to see when it was last updated.
NEW ORLEANS (WGNO) – Ever wondered how Beyonce became a huge star?   News with a Twist's Kenny Lopez met the man who taught Beyonce how to sing, and he's looking for the next big star right here in New Orleans.
"I kneeled down and looked her in the eyes and told her 'You're going to be the biggest star in the world', and she laughed,"  David Lee Brewer, Beyonce's former voice coach, said.
It's no laughing matter anymore now that Beyonce runs the world, the pop world, that is.  David  Lee Brewer met her in 1989, shortly after he moved to Houston.  Brewer became Beyonce's voice coach for 11 years, lived with the Knowles family, and formed the hit-making group, Destiny's Child.
"When I first met her, I thought she was picture perfect.  Every hair was in place.  Much like it is today.  Beyonce would sit outside my private voice lessons and then she'd knock on the door and quiz me about every lesson I taught.  She was a teacher's dream.  Very inquisitive,"  he said.
Looking back on his years with Beyonce, one thing that sticks out is that it was always about the craft.
"We never had any conversations about money or fame.  The only conversations we ever had was about music.  Beyonce never gave me any trouble.  The most difficult part were the parents, unfortunately,"  he said.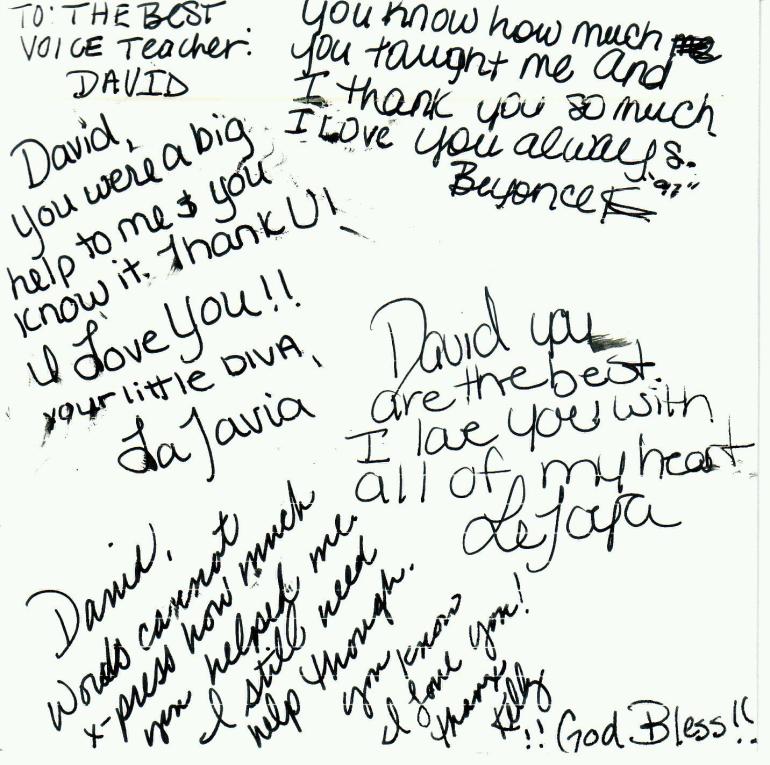 Now that Beyonce is a mega-star, David's setting his sights on finding the next Beyonce.   That's why he's in New Orleans on an international talent search.
David will be holding auditions tomorrow at the Hyatt Regency.  Then on Saturday, he'll be holding master classes.  He'll be selecting one child and one adult to receive 3 months of free voice lessons.   You must register online at this link HERE:
For more information, www.iwillbringyoutothestage.com
What David and Beyonce prove is that behind every great student is an even greater teacher!
Click HERE to read more about Beyonce and Jay Z buying a New Orleans home in the Garden District.