This is an archived article and the information in the article may be outdated. Please look at the time stamp on the story to see when it was last updated.
METAIRIE - The man who robbed a Gulf Coast Bank branch in Metairie on Monday was arrested yesterday in Baton Rouge.
Fifty-seven-year-old Andrew McCray, who has previously lived in Bucktown but has been transient for the past several weeks, was arrested on March 21 for the March 19 robbery, Jefferson Parish Sheriff Joe Lopinto said at a press conference.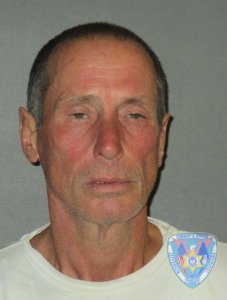 McCray entered the bank branch at 9:30 a.m., pulled out a gun, demanded cash, and fled in a maroon pickup truck Lopinto said.
"The good news is the employees were very vigilant," Lopinto said. "They identified that pickup truck and were able to identify several characteristics of it in order for us to release to several law enforcement agencies early on on that Monday."
A JPSO deputy recognized McCray from surveillance video of the robbery, and an arrest warrant was quickly issued.
The FBI Task Force and the US Marshal's Service were brought into the investigation, Lopinto said.
Investigators searching for McCray had hit a dead end, Lopinto said, until a tip came in on March 21 that led investigators to a hotel room in Baton Rouge where McCray had been hiding.
The East Baton Rouge Sheriff's Office joined the effort, and McCray was arrested at the hotel without further incident.
"He has since confessed to the bank robbery itself," Lopinto said. "We located on his person a large amount of currency believed to have been taken in the original robbery, and now he is in custody."
Gulf Coast Bank Senior Vice President Stephen Dickey thanked Lopinto and the rest of the officers who worked to locate and arrest McCray.
"We wanted to make sure we took this opportunity to thank law enforcement - the JPSO, the FBI, the US Marshals, and everybody involved in this," Dickey said.