This is an archived article and the information in the article may be outdated. Please look at the time stamp on the story to see when it was last updated.
KENNER, La. (WGNO) — With shootings and protests nationwide, it's been a difficult and divided week. During trying times like this, sometimes the most insignificant acts can send the most powerful message. And a viral image out of Kenner, Louisiana has everyone talking.
It's nothing more than one man and one woman walking in the rain.
"When I saw this, I thought, people need to see that. There are people that are kind on both sides of the color line, and we need to focus more on how we can help each other and be there for each other, rather than what sets us apart," said Deepak Saini.
He snapped the pic and shared the sweet moment on Facebook.
In the middle of a downpour, the man in the photo opens his umbrella, and his heart, walking shopper after shopper through a rain-soaked Target parking lot.
"There was no rhyme or reason to doing it. It was just hey; people need help," said Saini.
We found James Varnado, the Good Samaritan in shining armor, who didn't even realize he was caught on camera.
"I didn't expect anybody to show it or get recognition or anything like that," James told us. "I just did what I always do."
Waiting inside with the other shoppers, Deepak watched it all unfold. "It was really interesting because people were really touched. They were taken aback. I mean no one really wants to get wet, but this guy also didn't have to take it upon himself to help people."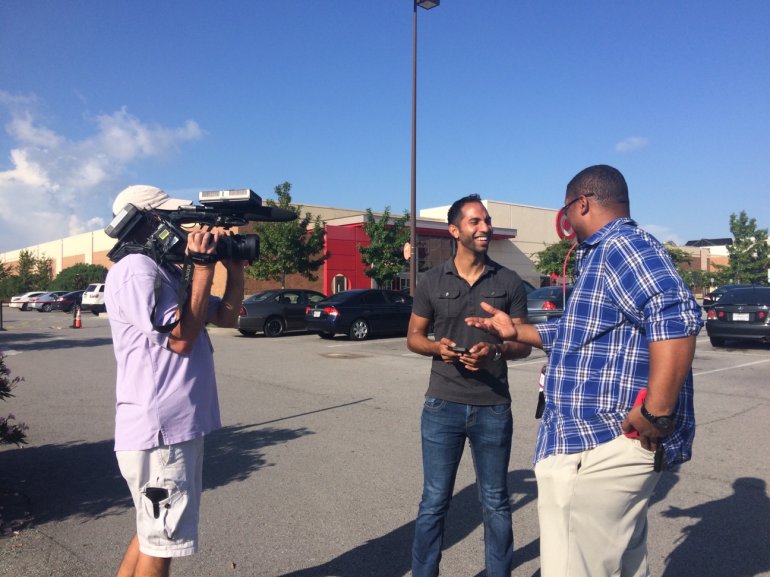 In this time of tension with shootings, violence and protests capturing headlines, the act of kindness captured hearts.
"People are people. Help. It doesn't matter who you are. It doesn't matter what you do. It doesn't matter if you're the richest person in the world or the poorest person in the world," James told us. "Somebody needs help? Help 'em."