This is an archived article and the information in the article may be outdated. Please look at the time stamp on the story to see when it was last updated.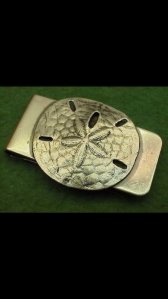 NEW ORLEANS - Jeweler Mignon Faget has stepped in to replace a New Orleans man's missing vintage money clip in response to a viral Facebook post.
On January 7, Kelsey Evans Rivera posted a picture of a Mignon Faget money clip that her father had lost that day at the Mercedes-Benz Superdome.
While surely happy to watch the Saints progress in the playoffs after a thrilling win against the Carolina Panthers, Rivera wrote that her father was heartbroken over losing that money clip.
Her father will replace the cash, credit cards, and driver's license that went missing along with the clip, Rivera wrote, but "Mom gave him the clip decades ago and it's very sentimental to him. For those that don't know, Mom died almost 2 years ago after 50 years of marriage."
The family prayed to St. Anthony to replace the lost money clip before turning to a public Facebook post to spread the word in hopes that someone would return it.
The prayers, it seems, worked like a charm.
A day after the Facebook post went viral, with over 4,000 shares and hundreds of comments, a Marketing Manager at Mignon Faget left a response.
It is against company policy to recreate archived items, but "we heard about your story early this morning and have been working on replacing his original Sand Dollar money clip," the Marketing Manager wrote. "We found a replacement in our archives and are polishing it as we speak. We would like to offer this refurbished piece complementary since your family has clearly been Mignon Faget collectors for many years...While I do hope your father finds the original money clip we hope this one will serve as an adequate replacement."
The company's post was met with an overwhelmingly positive response.