This is an archived article and the information in the article may be outdated. Please look at the time stamp on the story to see when it was last updated.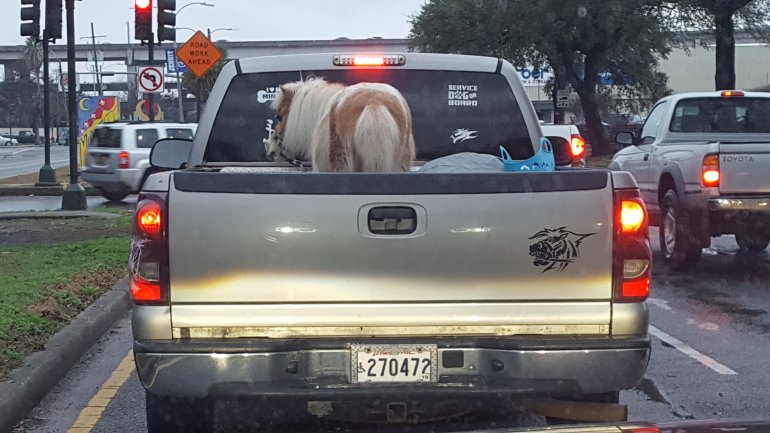 NEW ORLEANS – The Humane Society of Louisiana is calling for an investigation after photos emerged of a Shetland pony being transported across Mid City in the back of a pickup truck.
The picture was taken on North Carrollton Avenue during Mardi Gras earlier this month, according to Humane Society director Jeff Dorson.
Existing city codes in Orleans Parish make it "unlawful to transport any animal on a public road in any open-bed vehicle unless the animal is safely and humanely restrained," Dorson said, which usually amounts to double-tethering the animal or the kennel or cage it is being transported in.
"Tethering the pony to the front of the truck may have satisfied the basic legal requirements of this statute, but we still feel that it is unsafe and a poor way to transport any living creature," Dorson said. "We can only imagine what would happen to this pony should the driver be involved in an accident or suddenly stops. A sudden stop would likely cause the pony to crash its head against the back window and likely cause a serious injury to the horse. Plus, driving a horse in this manner is a great distraction to other drivers who are worried and concerned about the pony's safety."
Dorson said he plans to forward the photos, which were taken by a concerned citizen and sent to the Humane Society, to the Humane Law and Rescue Department of the LaSPCA and the Second District of the New Orleans Police Department.
If the driver cannot be charged under the existing city codes, Dorson said the Humane Society will seek to amend the codes to include the transportation of larger animals, like the pony.