This is an archived article and the information in the article may be outdated. Please look at the time stamp on the story to see when it was last updated.
BATON ROUGE – Gov. John Bel Edwards has appointed Maj. Kevin Reeves to serve as interim State Police superintendent and interim deputy secretary of Public Safety.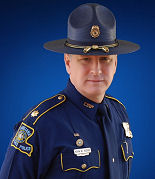 Reeves will assume his role March 25 after Col. Mike Edmonson retires. 
"With more than 26 years of service in the Louisiana State Police, Major Reeves assumes this responsibility with a wealth of knowledge and the respect from his colleagues across the state," said Edwards. "The state police are called on to assist law enforcement in every corner of Louisiana and play a critical role in times of disaster. I have tremendous confidence in Kevin's ability to lead this agency."
Reeves, a native of Baton Rouge, received his degree from Louisiana Tech University.
He began his career at the Louisiana State Police in 1990 as a trooper assigned to motorcycle patrols with Troop A in Baton Rouge. His career in the state police brought him to Troop F in Monroe in 1993, where he served as a squad leader for the mobile field force and as a case agent and undercover agent on many narcotics investigations and operations for the Bureau of Investigations.
In 2008, he became the Troop Commander of Troop F before assuming the role of command inspector of patrol operations and commander of statewide mobile field force team in 2013.
The Edwards administration will conduct a search within the ranks of the Louisiana State Police for the governor's permanent appointment. That announcement will be made following the conclusion of the search process.