This is an archived article and the information in the article may be outdated. Please look at the time stamp on the story to see when it was last updated.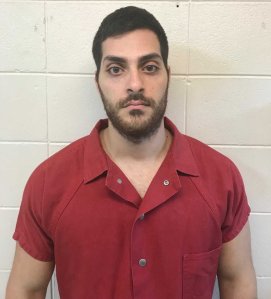 THIBODAUX – A former Louisiana State Police cadet has been arrested for sending nude pictures of a fellow soldier he worked with while in the Army.
Twenty-six-year-old Jimmy M. Kassis faces charges of non-consensual disclosure of a private image stemming from the incident, which occurred in May 2018 when Kassis mailed nude images of the victim to the victim's Army General.
Kassis was also in the process of mailing the images to the victim's supervisor at a separate place of employment when the Army began its investigation, according to the Louisiana State Police.
Investigators say it appears Kassis' motivation for sending the images was to blackmail the victim.
Army investigators informed the LSP of the investigation in June, while Kassis was a Louisiana State Police cadet.
Kassis was immediately terminated from the State Police academy, and search warrants were obtained for Kassis' house in Thibodaux and for his cell phone.
A warrant was issued for Kassis' arrest on August 6, but investigators learned he had fled the state.
Police in Van Buren Township, Michigan, contacted the LSP on August 31 because they had arrested Kassis on an outstanding warrant, and Kassis was subsequently extradited back to Louisiana and booked into the Lafourche Parish Prison.