This is an archived article and the information in the article may be outdated. Please look at the time stamp on the story to see when it was last updated.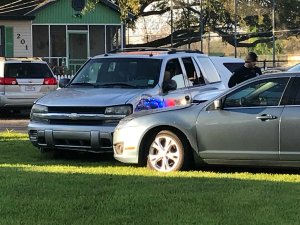 JEFFERSON – A woman who bit a Jefferson Parish Sheriff's Office during an earlier struggle slammed into two Jefferson Parish Sheriff's Office vehicles after a wild police chase this morning.
The unidentified driver was reported missing along with her three children around 2 a.m. by her husband, according to the Jefferson Parish Sheriff's Office.
Deputies located the woman, and a struggled ensued.
The woman bit an deputy before driving off with her children, ages 4, 6, and 13.
Concerned for the safety of the children, deputies did not pursue the woman at that time, according to the JPSO.
The four and six year old children later showed up at a local hospital after a bystander saw the woman kick the children out of her vehicle and drive away.
Around 6 a.m., deputies once again spotted the woman's silver Chevrolet SUV, and this time, they did pursue her vehicle, according to the JPSO.
The woman hit two police vehicles before turning down a dead end street.
Officers used their vehicles to block the SUV in, bringing the chase to an end on Riverdale Drive.
The 13-year-old was removed from the vehicle safely and the woman was arrested without further incident, according to the JPSO.
No deputies were seriously hurt in either incident.
Watch video of the traffic stop below courtesy of the Jefferson Parish Sheriff's Office: