This is an archived article and the information in the article may be outdated. Please look at the time stamp on the story to see when it was last updated.
UPDATE: At a press conference Wednesday Kenner police released additional details of the sex scandal involving two Destrehan  High School English teachers and a student. Read more HERE.
UPDATE: Shelley Dufresne was released Tuesday evening on a $200,000 bond set by Judge Lauren Lemmon. Special conditions of Dufresne's release include: Dufresne has been placed on house arrest. She is not allowed to leave the residence except for continued intensive mental health treatment, doctors' appointments, and church. Dufresne must provide the court with proof of continued treatment. Failure to comply will result in Dufresne reporting back to Jail.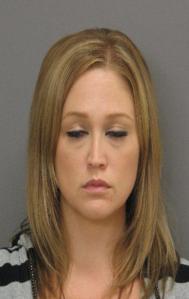 ST. CHARLES PARISH (WGNO) – One of two Destrehan High School teachers accused of having sex with a 16-year-old student is facing felony charges. Shelley S. Dufresne has been arrested for one count of carnal knowledge of a juvenile.
St. Charles Parish Sheriff's Office confirmed that 32-year-old Shelley S. Dufresne of Montz was booked Tuesday evening.
The sheriff's office is saying she allegedly had inappropriate sexual contact with a 16-year-old student at Destrehan High School. Reports show last Friday the sheriff's office was contacted by St. Charles Public Schools once one of the students was heard bragging about having a sexual relationship with two teachers.
"Anytime anyone is put into a position of authority, it's a responsibility as a human being not to abuse that authority, and so i think it's pretty sad. I don't know the circumstances. I don't know if there's some kind of mental illness there. I know if it was my child i would pursue charges in a heartbeat," says Norco resident Michael Wright.
"Unfortunately as a parent of a son that attends Destrehan High School, it's a little overwhelming at times, and my son is taking it difficult as well, but I think the whole school is taking it difficultly," says Destrehan High parent Antonio Morales, "When anything happens here at Destrehan, all of Destrehan suffers."
According to Dufresne's Destrehan High profile she taught English after graduating from LSU in 2005. This was her 10th year as a Destrehan High teacher. Dufresne says in her profile that she is married with three young children. She is the daughter of St. Charles Parish Judge Emile St. Pierre.
In the meantime Kenner Police are working their investigation, saying at least some of the alleged sexual encounters happened at the home of another Destrehan High teacher who lives in Kenner.
Multiple sources say the student, then 16 and now a 17, met the two teachers at the Kenner home where some of their sexual encounters were videotaped.
Allegedly the second teacher involved is also a Destrehan High graduate who was beginning her second year teaching there.
Those with St. Charles Public Schools now say both women have been asked to stay off campus.