This is an archived article and the information in the article may be outdated. Please look at the time stamp on the story to see when it was last updated.
NEW ORLEANS (WGNO) – Delgado Community College Police Chief Julie Lea has been fired.
Delgado spokesman Tony Cook confirmed the termination today. He said it stems from an internal investigation into a private funeral detail for the family of the late Xavier University Police Chief Duane Carkum earlier this month.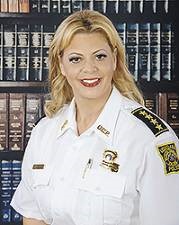 An internal investigation found that Lea ordered two Delgado police officers, both state employees, to work the private detail from noon until 5 p.m. Jan. 13, during their assigned Delgado shifts, which violates the Louisiana Community and Technical College System's Code of Conduct, Cook said.
Lea, who is also the head of the all-female Krewe of Nyx, was suspended with pay Jan. 18, pending the outcome of the internal investigation.
She had been employed at Delgado since Aug. 17, 2015.
"The investigation determined that the safety of the Delgado Community College City Park Campus community was compromised due to the resulting shortage of officers working there," Cook said. "This type of behavior is unacceptable, particularly for a member of the College's administrative staff, and it is incompatible with the mission and values of the College."
An interim chief of police will be appointed as soon as possible, Cook said.
Steven Cazaubon, vice chancellor for business and administrative affairs, will lead the department until a new police chief is named. Cazaubon was Lea's supervisor.